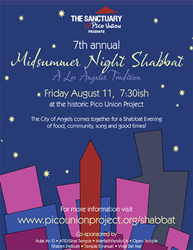 Los Angeles, CA (PRWEB) August 03, 2017
Only a handful of tickets are still available for an epic, annual Midsummer Night Sabbath on August 11th at the multi-faith and cultural Pico Union Project.
The evening will feature an outdoor dining experience with made-to-order artisanal pizza hot out of the Urban Oven, Shalom Institute's world famous eggplant parmesan, Mexican fruit cart, yoga, and amazing music to greet the Shabbat and community
"The Midsummer Night Shabbat secret sauce is its open door and platform for expressions of joy, and community," explained Craig Taubman, musician and founder of the Pico Union Project.
Special guests will include Mostly Kosher's Leeav Sofer and Janice Markham, spoken word artist Jason Chu, motivational speaker and creative Stuart K. Robinson, Reverend Najuma Pollard), and musician Miriam Wertlieb together with Hip Hop artist Zamba.
This year's program is co-sponsored by Adat Ari El, InterFaith/LA, Open Temple of Venice, Seeds of Hope, Sinai Temple/ATID, Temple Emanuel, Word of Encouragement Church, and Vista Del Mar.
For more information or to reserve your seats at the program please visit http://www.picounionproject.org/shabbat.
ABOUT PICO UNION PROJECT Housed in the oldest synagogue building in Los Angeles, The Pico Union Project is a multi-faith cultural arts center dedicated to the Jewish principle to "love your neighbor as yourself." We honor this teaching by bringing diverse cultures together through song, story, art, food, prayer and community service. http://www.picounionproject.org