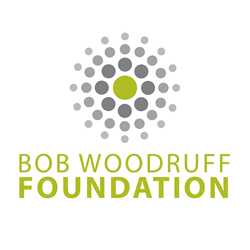 San Diego, CA (PRWEB) August 04, 2017
GovX, the online shopping site exclusively for current and former military and first responders, selected the Bob Woodruff Foundation as August's recipient of the Mission Giveback donation program. Each month, GovX chooses a new service-related foundation performing work in the military, first responder, or law enforcement communities. Each organization receives a portion of GovX proceeds from all orders placed during the given month.
Founded in the years after ABC correspondent Bob Woodruff was injured by a roadside bomb, the Bob Woodruff Foundation navigates nonprofits nationwide to find, fund, and shape innovative programs in communities where vets, their families, and their caregivers live and work.
In 2006, Woodruff was reporting on the transfer of power between US and Iraqi security forces. He was traveling with this cameraman Doug Vogt when their vehicle was struck by a roadside bomb. Both men sustained shrapnel wounds to the head, and were immediately treated by soldiers and medics. Thanks to the quick actions of the professionals who treated them, Bob and Doug survived. Bob was transported to the Naval Hospital in Bethesda, MD, where he spent over a month in a medically induced coma. His wife Lee accompanied him, and was introduced to the families of service members dealing with the impact of hidden injuries such as Traumatic Brain Injury, Post-Traumatic Stress, and depression. Bob and Lee launched the organization after his recovery from his injury.
"We're amazed at the immense impact the Bob Woodruff Foundation has made on the lives of veterans and their families across the country," said Alan Cole, GovX CEO. "By supporting them as this month's Mission: Giveback recipient, we're supporting amazing causes nationwide."
The Bob Woodruff Foundation enables veteran focused non-profit organizations to provide quality programs and vital services to those who served in the armed forces. They are recognized as a founding sponsor of Team Rubicon Global, the rapid deployment emergency response organization that puts veterans to work in disaster zones. The Foundation also provided a grant to Team Red, White & Blue, an organization which connects veterans with their communities through physical and social activities. They have invested over $42 million in supported organizations, awarded over 350 grants, and impacted the lives of over 2.5 million veterans and their families. In May of 2017, they announced $3.3 million in grants, awarded to 31 nonprofit programs meeting the needs of post-9/11 veterans, service members and their families.
"We're honored to have been selected as GovX's Mission Giveback nonprofit for the month of August," said Anne Marie Dougherty, executive director of the Bob Woodruff Foundation. "The funds and awareness raised will help BWF empower post-9/11 veterans and their families as they look to the next chapter in their lives."
Learn more about the Bob Woodruff Foundation by visiting their website.
About GovX:
GovX.com is for men and women of service. A members-only online destination for military and first responders, the site offers thousands of products from hundreds of brands at exclusive, below-retail pricing. Members include active and veteran U.S. military, firefighters, law enforcement officers, federal agents, and personnel from related government agencies. For more information, visit http://www.govx.com.