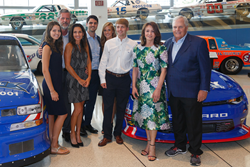 Charlotte, N.C. (PRWEB) August 03, 2017
Liberty University announced the creation of the Ricky Hendrick Scholarship Fund at a press conference held Wednesday at the NASCAR Hall of Fame in Charlotte, N.C. The scholarship honors the son of Linda and Rick Hendrick, owner of Hendrick Motorsports, which signed Liberty student and NASCAR Xfinity Series driver William Byron to a multi-year driver agreement last summer. Ricky Hendrick was a former NASCAR driver and team owner who died along with 10 others in a plane crash en route to a race in Martinsville, Va., in October 2004.
Liberty President Jerry Falwell and his wife, Becki, presented a $25,000 check to establish a need-based fund for qualifying students enrolled in Liberty's Automotive Dealership Management degree program through the School of Business.
"Liberty University is a lot like JR Motorsports," Falwell told the crowd on Wednesday. "We focus on Training Champions for Christ, and I've seen how Rick and his organization (Hendrick Motorsports) nurtures drivers and creates quality individuals and builds their character as well as their ability."
This past spring, Liberty piloted its first course in Automotive Dealership Management in partnership with Hendrick Automotive Group, which owns 102 dealerships nationwide. The company is the largest privately held automotive retail organization in the United States. The program, which is only offered at two other colleges in the country, is available residentially and online.
Rick Hendrick, a NASCAR Hall of Fame member and co-owner of JR Motorsports who has trained some of the most famous drivers in the sport, including Jeff Gordon, Jimmie Johnson, and Dale Earnhardt, Jr., owner of JR Motorsports, has lectured at Liberty through the new degree program. No other university is providing the same hands-on experience for students at this level.
"Liberty produces the most quality young people we've ever met in our business, so it's a real honor for the automotive group to be able to partner with the college," Hendrick said. "Our folks are working with Liberty on the curriculum and it is training young people for our business."
He added that he treasures the relationship with Liberty.
"We have 11,000 employees in 16 states, and we have an unbelievable need for quality young people and a guy like William … says so much about the character of every student we've met. We've had career days on campus and they are very focused, they are faith-based, they are Christians, and they have a drive and a desire to achieve in life. The school is exploding, and we are just so happy to be able to be a part of it from the business side of it, from our motor group. It's producing leaders for the future for us."
The Hendrick family and members of Ricky Hendrick's former crew were also honored at Wednesday's press conference when a "throwback" paint scheme mimicking Ricky Hendrick's No. 5 GMAC Chevrolet was unveiled for Byron's No. 9 Liberty University Chevrolet Camaro. Byron will drive the commemorative car, designed by JR Motorsports, at the Sept. 2 Xfinity Series race at Darlington, S.C., one of 17 races sponsored by Liberty this NASCAR season.
"That's a gorgeous car. I love that paint scheme," Rick Hendrick said. "We are honored, and I want to thank President Falwell and the folks at Liberty for wanting to do this. It's going to be super special for us and for all of the folks who worked on his team to see that car on the track again and those colors. It's going to be so rewarding for us, and I'm looking forward to see William win at Darlington."
Ricky Hendrick won his first Truck Series race at Kansas Motor Speedway, the same track where Byron captured his first Camping World Truck Series checkered flag in May 2016.
Byron, the Camping World Truck Series Rookie of the Year last season while he was a residential student at Liberty, has continued to excel in his first season competing in the Xfinity Series while studying through Liberty's online programs.
The 19-year-old sophomore has posted top-10 finishes in his last seven races and won three of those: at Iowa Speedway on June 24, Daytona International Speedway on June 30, and Indianapolis Motor Speedway on July 22, where he became the youngest driver to win at the Brickyard. He has moved into second place in the series points standings.