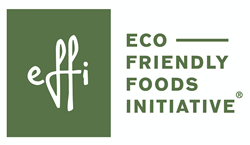 LOS ANGELES, Calif. (PRWEB) August 08, 2017
Eco Friendly Foods Initiative®, otherwise known as EFFi Foods, recently announced their partnership with Sprouts Farmers Market, the healthy foods grocery store chain, to become a nationwide snack retailer. The Los Angeles-based company will begin by selling their award-winning product, Probiotic CareBars®, in three different flavors.
"We are incredibly honored to be part of the Sprouts family," said Carina Ayden, Founder and CEO of EFFi Foods. "So many of our core values are rooted in the same mission: a commitment to organic and natural foods that support wellness and healthy living. We couldn't be more excited to provide our Probiotic CareBars® to this nutritionally-conscious community as a delicious and nutritious snack for all ages."
EFFi Foods creates innovative plant-based snacks that are designed to focus on disease prevention, and to help people better invest in their own health without sacrificing great taste or ethics. All of their snacks provide live probiotic cultures from organic, plant-based sources to support gut and digestive health. Additionally, each component of their products is sustainably sourced and made, from the ingredients to the packaging. The company is committed to minimizing their carbon footprint in support of a healthier planet, and driven by their passion to provide optimal health benefits for its consumers.
When the company was initially founded in 2012, EFFi Foods partnered with the Cleveland Clinic's "Go!Healthy" program to refine their ingredient list and recipes to create the best tasting and even more nutrient dense, plant-based snacks on the market. Continuing to grow in popularity, EFFi Foods' Probiotic CareBars® were recognized in a list of the "Top 5 Most Innovative Snacks" awarded by the CPG Editor's Choice Awards.
To learn more about EFFi Foods, visit https://www.effifoods.com/ or visit your local Sprouts store to try them for yourself.
About Eco Friendly Foods Initiative®
Eco Friendly Foods Initiative® EFFi Foods® is a nutritional food company at the forefront of the regeneration and restoration of the food system as well as the advancement of the health and wellness movement. Built on pillars of health, wellness and sustainability, EFFi Foods® is dedicated to disrupting the unhealthiest and over-saturated food categories by providing innovative plant-based foods designed and produced with the highest restorative impacts on the planet and humans, maximum health benefits and exceptional taste.