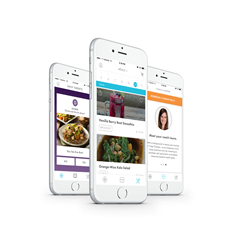 We've known what it takes to prevent roughly 80% of all premature death, and the chronic diseases that precede it, for well over 20 years. The focus now must be on how - and FareWell is about how.
San Francisco, California (PRWEB) August 08, 2017
FareWell, a startup developing digital therapeutics to treat and reverse diabetes and heart disease, today announced two key additions to its executive team.
Penny Moore and Sachin Kelkar join an esteemed team of leaders and advisors in a San Francisco-based startup focused on reversing chronic disease in the workplace to improve the health of American workers and competitiveness of their employers.
Penny Moore joins FareWell as Head of Enterprise. Penny is an accomplished growth strategist who served as Chief Growth Officer at Kurbo Health, focused on childhood obesity, and ShapeUp, which delivered social wellness programs to employers and insurance companies around the world, before being acquired by Virgin Pulse in 2016. She also held leadership roles at Kaiser Permanente, UnitedHealthcare, and Aetna. Penny received a B.S. Pharmacy degree from the University of Missouri-Kansas City and a Certified Health Insurance Executive (CHIE) accreditation from AHIP.
Sachin Kelkar joins FareWell as Head of Finance and Corporate Development. Sachin is a seasoned finance and corporate development executive, most recently serving as Senior Vice President of Strategy and Corporate Development at Practice Fusion. Sachin fostered his passion to transform healthcare as Co-founder of LifeTech Capital, an advisory firm focused on bringing innovative biotech and medtech companies to market. He holds a B.A. from UC Berkeley and an MBA from the University of Chicago Booth School of Business.
"Penny and Sachin are excellent additions to our team. They are passionate about our mission to treat and reverse chronic disease, and they have unique experiences and key relationships to help us build and accelerate growth," said CEO and Co-founder Kevin Appelbaum. "As we lead the second wave of innovation in digital therapeutics - focusing on disease reversal - FareWell will continue to attract and add more exceptional members to the team."
FareWell's Vision and Visionaries
FareWell is developing digital therapeutics to become first line treatments for type II diabetes, heart disease, and other chronic conditions, displacing medications and improving quality of life for employee populations. FareWell's leadership team also includes an advisory board of industry luminaries led by Chief Science Officer and Advisory Board Chair, Dr. David Katz.
"We've known what it takes to prevent roughly 80% of all premature death, and the chronic diseases that precede it, for well over 20 years. The focus now must be on how - and FareWell is about how," said Chief Science Officer Dr. David Katz. "Treating and reversing chronic disease through digital therapeutics requires cutting-edge technical know-how and clinical support, coupled with expertise in lifestyle medicine, nutrition, behavioral science, health coaching, and culinary education."
Employers need FareWell

The total cost of healthcare in the US is $3.2 trillion with treatment of chronic disease making up almost a third of that spend according to the CDC.
Increases in healthcare spending are not leading to a decline in chronic disease.
Almost half of these health care costs are paid by self-insured employers and employee contributions.
A 10% decrease in costs of treating preventable diseases could unlock $70 billion a year in value in addition to benefits that can't be measured in dollars.
"We view ourselves as partners to our employer customers and work to align our incentives with their benefits strategy through value-based pricing. This means we are paid for delivering outcomes that result in measurable cost savings, not per-member-per-month or other similar types of participation fees," said CEO and Co-founder Kevin Appelbaum. "This is game-changing for employers who want to see effective results for their employees and dependents in the short term and good health in the long term as they gain health literacy that transfers into the home and ultimately benefits entire families."
FareWell Partners Benefit from Talent and Technology
The FareWell digital therapeutics platform leverages the latest in predictive analytics and AI technology. Participant outcomes can be predicted based on current engagement patterns, which allows coaches to adjust support at the individual level. This tech-powered medical intervention can be scaled to serve large populations through artificial intelligence and machine learning algorithms.
"FareWell's digital tools and proprietary curriculum have proven to drive high engagement. Together with our best-in-class coaches with deep knowledge in nutrition and behavior change, participants learn skills that last a lifetime," said Head of Health Dr. Mark Berman. "Drugs should not be the starting point. You can reverse chronic disease through better diet and lifestyle choices."
To join the FareWell team in reversing chronic disease through the latest innovation in digital therapeutics, please visit https://farewell.io/
About FareWell™
Founded in 2015, FareWell has raised $12.5M in funding from its Co-founder & Chairman, David Perry, and other individual investors. FareWell launched its first online lifestyle intervention program in June 2016. Today, its mission to reverse chronic disease through digital therapeutics is supported by a growing team of health experts and Advisory Board Members.
Please follow FareWell
https://www.facebook.com/TeamFareWell/
https://twitter.com/Team_FareWell
https://farewell.io/blog/