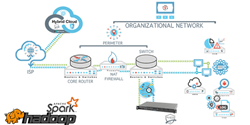 These Proof-Of-Concepts (POC) allow us to test our real time Spark/Hadoop Integration built by @RISK behind an organizational firewall, while ensuring air-gapped and SOC 2 compliant data stores are kept secure using a Hybrid Cloud delivery model
Dallas, TX (PRWEB) August 09, 2017
@RISK Technologies, Inc., a Cyber Network Consensus SaaS company, announced its focus on 3 Pilot Customers in Banking. The effort is to validate integration with IBM Technology, BlueMix and IBM Watson application program interfaces (APIs).
"This is how we validate our pre-organization development efforts with the market", said Darren Morris, co-founder and COO of @RISK Technologies. "These Proof-Of-Concepts (POC) allow us to test our real time Spark/Hadoop Integration built by @RISK behind an organizational firewall, while ensuring air-gapped and SOC 2 compliant data stores are kept secure using a Hybrid Cloud delivery model. The Board of Directors came together to establish a solid milestone towards achieving growing @RISK Technologies."
As Cyber Customer Loyalty is decreasing in the market, @RISK focused on a different strategy - Validating its product through partner customers. In its pre organization development, 19 developers worked for no salary while the founders traveled the country and globe to hear from Information Security Customers. Here's their discovery: More choice, more confusion. Emerging products and increased competition across market have given potential customer the flexibility to try many different products and services.
Proliferation of choice, price promotion, and the entrance of niche disruptor brands are among the reasons that loyalty is difficult to cultivate. In addition, loyalty was not always fashionable. For self-expression and risk reduction, customers preferred to mix and match best-in- class, curating an affiliation with Gartner rather than uniformity in their network. Similarly, many CISOs recognize that they can't "tool their way out of the problem", so interest in newest products using Machine Learning is hot. Responding to this purchasing variability, @RISK is focusing on consumers at the exact right value that is emerging which, for banking, is better fusion between compliance, risk management and automation.
This POC focuses on the ability to automate those fusion points using a cognitive assembly of Machine Learning into a specific A.I. function.