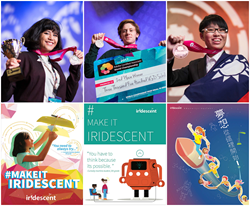 Anaheim, CA (PRWEB) August 04, 2017
The winners of the 2017 Adobe Certified Associate (ACA) World Championship have been announced by Certiport, the leading test delivery solution provider for the global workforce and academic markets.
In its 5th year, the competition attracted more than 110,000 candidates from 67 countries to prove their superior digital communications skills. Ana Katarina Charvet from Las Vegas, Nevada, USA won the top prize out of 47 finalists who came to the final round of competition at the Disneyland Resort Hotel in Anaheim, California, USA from July 31 – August 2, 2017.
The 2017 ACA World Champions are:

First place: Ana Katarina Charvet, Las Vegas, Nevada, USA
Second place: Elliot Tawns, Australia
Third place and People's Choice Award: Yi-An Chen, Taiwan
Fourth place: José Antonio Martínez Caballero, Mexico
Fifth place: Soham Khatadare, India
Sixth place: Alyson Janina Vidal Silva, Chile
Seventh place: Franz Felipe Otiniano Camino, Peru
Eighth place: Yi-Jing Lin, Taiwan
Ninth place: Angel Patricio Canales Cifuentes, Chile
Tenth place: Arisara Kotchatin, Thailand
"The ACA World Champions join a list of illustrious young people who have impressed us with their talent and job-ready skills since we started this competition five years ago to promote industry certification," said Aaron Osmond, general manager, Certiport. "In order to take artistic ability and translate it into the workforce, you have to be able to follow instructions and use the most popular industry tools efficiently. These students did that for our client and exceeded expectations."
Finalists were asked to create a 16 by 20-inch poster in both print-ready and digital format for client Iridescent, a science, engineering and technology education nonprofit organization that empowers underrepresented youth to become self-motivated learners, inventors and leaders. They were given 8 hours and could use Adobe Photoshop Creative Cloud (CC), Adobe Illustrator CC and/or Adobe InDesign CC. They were judged on their creative and technical skills, as well as their ability to implement the client's vision and message. The top ten final entries can be viewed here.
"Certiport advised us that these projects would be both creative and professional, but we were blown away by what the finalists created in just one day," said Wallace Louie, senior director of marketing, Iridescent. "We enjoyed seeing and judging the projects and interacting with these bright digital design students from all over the world."
The first, second and third place ACA World Champions were selected based on design score and were awarded scholarship money ($7,000, $3,500, $1,500), Adobe software, and gold, silver, and bronze medals. Honorable mention scholarships of $250 were given to fourth through tenth place with an additional $250 for the People's Choice Award (as voted on by event attendees).
"I congratulate Ana Katarina and the other finalists for their superior digital design skills, passion, and creativity," said Tacy Trowbridge, Global Education Programs Lead, Adobe. "The ACA World Championship recognizes students from around the world. These students have demonstrated their skill by earning an industry certification and by competing in a design challenge judged by industry experts. This accomplishment will help these students in their academic and career pursuits."
Next year, Certiport will host the 2018 Adobe Certified Associate World Championship in Orlando, Florida. Download high-resolution photos of the winners here and video interviews here. The hashtag for the event is #ACAWC.
About Certiport
Certiport, a Pearson VUE business, is the leading provider of certification exam development, delivery and program management services delivered through an expansive network of over 14,000 Certiport Authorized Testing Centers worldwide. Certiport manages a sophisticated portfolio of leading certification programs including: the official Microsoft Office Specialist certification program, the Microsoft Technology Associate certification program, the Microsoft Certified Educator program, the Adobe® Certified Associate certification program, the Autodesk Certified User and Autodesk Certified Professional certification programs, the Intuit QuickBooks Certified User certification program, the Toon Boom Certified Associate certification program, the IC3 Digital Literacy certification and the Certiport Business Fundamentals certification program. Certiport reliably delivers over three million tests each year throughout the secondary, post-secondary, workforce, and corporate technology markets in 148 countries and 26 languages worldwide. For more information, please visit http://www.certiport.com or follow Certiport on Twitter at http://www.twitter.com/certiport.
"Certiport" and "IC3" are registered trademarks of NCS Pearson, Inc. in the United States and other countries. The names of actual companies and products mentioned herein may be the trademarks of their respective owners.