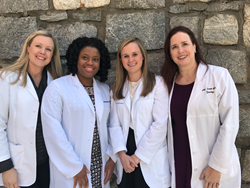 Woman's health doesn't stop when they stop having babies; it's just one step in a far longer journey.
ATLANTA, Georgia (PRWEB) August 16, 2017
In 1987, McDaniel & Durrett, P.C., a gynecology practice in Atlanta, opened their doors. They celebrate 30 years in business this year, and they're marking the milestone by undertaking a significant office makeover, designed to create an up-to-date, inviting, tranquil space to serve their patients.
It stands to reason that, given the central importance of gynecology to a woman's wellbeing—and the fact that doctors' visits and anxiety often go hand in hand—the setting in which that care is delivered would be pretty important.
On that score, partner physician, Dr. Lynley S. Durrett discussed the recent renovation efforts that this exceptionally stable and established practice—since 1987 on the Piedmont Hospital campus in the convenient 30309 zip code—has undertaken to preserve and enhance the "boutique" nature of the practice.
According to her, the goal of the office makeover was to create a space that's "fresh, breezy, fashionable and up-to-date. Our waiting room is a really comfortable place with cozy couches and with a calm, peaceful atmosphere. Most importantly, it doesn't feel like a doctor's office!"
The renovation, according to Durrett, is especially important given that, for most women, their gynecologist is so much more than "just another doctor." Given the central importance of this health care specialty for so many phases of women's lives, it makes sense that women would have more stringent criteria for choosing their gynecologist than their other medical practitioners. And, says Durrett, "Small things, like an office setting, actually count for a lot."
But, a new fresh space is just one reason the practice is thriving after three decades. For starters, apparently, all gynecology practices are not created equal, as many focus primarily on the surgical side of the specialty.
And that's where McDaniel & Durrett, P.C. (with a satellite office on the Northside Hospital campus, in addition to their main Piedmont Hospital facility) begins distinguishing themselves from other gynecology practices.
According to Durrett, it's one of the relatively few firms offering, "Both top-notch surgical care and outstanding continuing care services."
Indeed, according to Dr. Durrett, many of her newer patients are older women who left their previous gynecologists because, after their surgical procedures, those same doctors just didn't offer the same level and range of continuing-care services as her practice does—services that women clearly need throughout their lives.
Durrett is quick to emphasize her firm's surgical expertise in the realms of minimally invasive gynecological surgery, prolapse surgery, and robotic surgery.
But, when surgery is done, and life goes on, especially advancing into menopause, McDaniel & Durrett reportedly offers a full range of continuing care services as well: hormone therapy, anti-aging regimens, wellness programs, vitamin/mineral assessments, supplements, and more. All of which, as Durrett notes, underscore an eternal truth: "Women want to keep young."
Speaking of women, this gynecological practice is an all-woman office—both doctors and nurses. Does that make a difference for patients? Without a doubt, according to Durrett, who noted that the ability to offer patients a unique understanding of their needs, has, not surprisingly, given them an extra measure of comfort." As Durrett observes, "Women taking care of women understand these things."
But, she says, it goes deeper than that, noting that women are natural relationship-builders, a fact that's especially important in gynecology. Understandably, women patients want a doctor who'll be there for them through all their phases of life, and she puts it succinctly, "Woman's health doesn't stop when they stop having babies; it's just one step in a far longer journey."
Then there's the issue of time. We're all busy, and nothing's more irritating than showing up on time for your appointment, and still having to wait too long. At McDaniel & Durrett, respecting their patients' time is part of the value they offer, and they do it in two way: 1) They offer the necessary forms online to fill out prior to arriving, and, 2) they're committed to sticking as closely as possible to their appointment time.
Summing up what's clearly been a winning formula for their patients for three decades, she says, "Between our full range of surgical and continuing-care services; our all-women staff committed to being there during every stage of our patients' life journeys; and yes, our newly welcoming, comfortable offices conveniently covering a broad swath of north-central Atlanta, we've been doing a lot of things right for our patients for a long time."