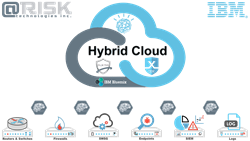 (PRWEB) August 17, 2017
@RISK Technologies, Inc., a Cyber Network Consensus SaaS company, recently announced the completion of its InVictus Platform which leverages IBM's family of products to include IBM Watson™.
@RISK's next generation Cognitive Computing systems are fused to leverage Machine learning to provide a specific kind of A.I. @RISK mimics human processing during Digital Forensic Investigation. By using Post Incident Discovery, human based systems and automate them using Cognitive Computing, @RISK creates Pre-Incident Forecasts which enables their Customers to prevent, address, and eradicate cyber threats.
The company signed a Strategic OEM agreement with IBM, becoming an IBM registered business partner. @RISK enables automation of Cyber Maturity Levels, Compliance scoring and Enterprise Risk Management delivered through an electronic Strategic RoadMap that is measured through a Balanced ScoreCard for Cyber and the results are presented in a single pane of glass. Its Network Consensus approach to Cyber Security leverages the technology you already own. @RISK pinpoints the attack to plug the holes before the threat can exploit them.
@RISK measures People, Process, Technology and Data for events that might cause terminal risks to an organization. The InVictus Platform leverages the best of IBM including IBM Cloud Computing, the IBM PureSystems® family, IBM Big Data & Watson, IBM Security and IBM Connections® social capabilities.