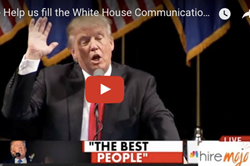 I applaud our President for moving the role of Communications Director onto the quarter system like so many of this great nation's finest institutions
San Francisco, CA (PRWEB) August 04, 2017
HireMojo, Inc., the Hiring Automation Platform™ company, today announced that it has initiated a professional search for the next White House Communications Director.
In an unprecedented move, HireMojo is supporting the effort to fill the White House Communications Director opening as part of its civic duty in an unofficial capacity. "We view this effort more as building a pipeline of candidates rather than making a single hire." clarified John Younger, HireMojo's CEO. "We appreciate that the average tenure of someone in this role is three months, so our mission is to identify the next 14 people who will be hired for the remainder of this President's term. He deserves only the BEST candidates."
"The impact these people will have is tremendous." emphasized Kelly Konis, President of Konis Consulting, an international marketing and communications firm. "It is no small feat to manage the communications strategy for a group that embraces dissention, diversity of statements around the same topic and frequent 140 character surprises. I applaud HireMojo's efforts to support the White House and America, and their commitment to fuel the daily comedic relief from the White House upon which so many people rely!"
"I applaud our President for moving the role of Communications Director onto the quarter system like so many of this great nation's finest institutions." said Cal McAllister, Co-Founder and CEO of Wexley School for Girls, the best advertising agency in the solar system. "Giving tenured individuals several weeks of proselytizing at the lectern, then months and months to publish where they really make their money is genius from a genius. It takes a deep bench, which is why John and his A team at HireMojo are perfect for the task. Trust me, you're going to love it."
To see the job description and initial screening questions click here to apply http://www.hiremojo.com/whitehouse.
About HireMojo
HireMojo® is the world's first subscription-based Hiring Automation Platform™ with a singular mission to drop unemployment in the United States below 3%. By incorporating a constellation of resources, HireMojo's software RecruiterBot® performs most of the routine and difficult tasks related to finding, screening and managing candidates through the hiring process. Most companies fill 90% of their jobs within 3 weeks. With HireMojo®, hiring the right people throughout the year is easier, and removes the need for multiple recruiting-related vendor contracts or integrations.