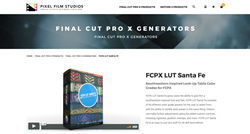 This FCPX LUT package was designed with a Southwest style in mind.
Aliso Viejo, CA (PRWEB) August 03, 2017
FCPX LUT Santa Fe gives users the ability to give film a southwestern-inspired look and feel. FCPX LUT Santa Fe consists of 60 different color grade presets for the user to select from, with the ability to modify each preset to the users liking. Editors can make further adjustments using the added custom controls, including vignettes, gradient overlays, and more. FCPX LUT Santa Fe is an easy to use tool, built for all skill level editors.
FCPX LUT Santa Fe includes 60 look-up table color grades specially for Final Cut Pro X. The drop down menu located in the effects tab allows the user to select the color grade, then modify it using the adjustment controls located in the FCPX Inspector window. Look-Up Table color grades adjust the current color tones and lighting in each shot, while adding a colorful and stylized appearance.
FCPX LUT Santa Fe consists of one FCPX Effect preset designed as a color-grading tool. This tool comes color grade presets located in one drop-down menu for easier accessibility. FCPX LUT Santa Fe includes numerous color control sliders for further adjustments. The effect is applied to the desired media on the timeline, then modified by the user..
FCPX LUT Santa Fe gives users the ability to instantly change any media, whether its still images for slide shows, or video. Users can add stylistic tones by making minor color adjustments. FCPX Users can also adjust the opacity of each effect, if so desired. The user can add color film grain to each shot to further enhance the look. FCPX LUT Santa Fe includes vignette and outer blur controls simulating depth of field.
FCPX LUT Santa Fe allows users to add southwestern-inspired color grades to any media. Any modifications can be made to the color of the highlights, shadows, and mid-tones, if so desired. FCPX LUT Santa Fe includes Gradient Overlays and film grain effects, allowing the user to add more to each look. This plugin tool is designed for quick color modifications, allowing changes to be made on the fly.
Established in 2006, Aliso Viejo, California-based Pixel Film Studios is an innovative developer of visual effects tools for the post-production and broadcast community. Their products are integrated with popular non-linear editing and compositing products from Apple FCPX. Apple, the Apple logo, Mac OS X, and Macintosh are registered trademarks of Apple Inc. in the U.S. and/or other countries. All other trademarks and trade names are the property of their respective owners.