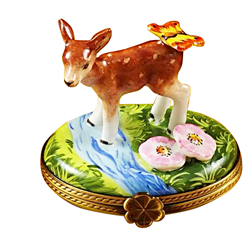 Limoges Porcelain Boxes from France are the most Luxurious gift for all gift giving occasions
St Petersburg, Florida (PRWEB) August 25, 2017
The detailed painting on porcelain by master French artisans is pure art and achieves in charming collectors of Limoges boxes by Limoges Boutique, an extravagant creation of Limoges boxes are offered exclusively at LimogesBoutique.com.
LimogesBoutique.com offers artistic masterpieces, which are magnificent and a valuable treasure to display. All of the Limoges boxes at Limoges Boutique are of the highest in reputation and are guaranteed to be 100% authentic Limoges from the heart of the city in France. Limoges French boxes are created in a diversity of fanciful figures to appeal to every palate. Limoges Boutique imports only the finest hand-picked pieces, as we work directly with the artisan in Limoges, France. Authentic Limoges are made of a clay called Kaolin and can only be found within the city of Limoges. As a result, we bring you the highest quality French Limoges boxes made by the most artistic and talented artisans in Limoges, France of this highly sought out and rare translucent porcelain.
A Limoges Box from France is a gift of beauty, prestige, and passion to everyone who gazes upon it. A Limoges Museum at home will give any prosperous residence the craftsmanship and quality worthy of their home. The French words "peint main", "peint à la main" or "dècor main" all specify that our Limoges boxes are entirely hand painted by artisans in the heart of the city in Limoges France. Each Limoges porcelain box is initialed by the artist or factory. Each Limoges piece will arrive carefully packaged in a gorgeous gift box with certificate of authenticity to validate its superiority.
Hand-painted French Limoges boxes are among the uppermost luxury gifts and collectibles in the world. These intricately detailed miniature art pieces are sought after by collectors and gift givers. Give a gift to add to one's collection, shoppers and collectors can find an amazing selection of genuine peint main French Limoges boxes to suit any occasion. An authentic true fine Limoges Porcelain Box will appreciate in value.
When selecting a box for your assemblage, choose pieces that bear the following marks of quality.

Purchase pieces crafted by a reputable firm like Rochard Artoria or the artisan signified in France.
Make certain each Limoges is entirely handmade and hand-painted in France.
Boxes that are hand-signed and distinctive in shape reflect the artisan mark serve to enhance value.
See that the paint is of vivid color, realism, proportional, depth, and conveys the detail in mood of the subject matter
The Boxes interior and exterior painting should thematically compliment, as should any removable objects.
The clasp should be hammered on and relate thematically.
The box should be tight fitting and clasp fitted to the piece.
Molds exclusive to the company are valued (such as Rochard or Artoria)
The numbered pieces ascertain these pieces to be more rare.
Limoges Boutique is honored to offer a inordinate selection of fashionable Limoges porcelain boxes by Rochard and Artoria Limoges, many of which are accessible entirely at LimogesBoutique.com. Limoges Boutique incomparable Limoges boxes will be a spectacular addition to any Limoges box collection. To give a gift of incomparable design and luxury add a Limoges box to any Limoges collection to make a assemblage extravagance beyond all other high end gifts.
No matter what the occasion, LimogesBoutique.com offers the perfect Limoges box for your collection or to give as a gift. LimogesBoutique.com is the authorized dealer for the finest lines of Limoges boxes and the most exclusive distributor and retailer for the prestigious French Limoges collections in the world. A large selection of Rare and Retired Limoges boxes which will make each an extraordinary acquisition. LimogesBoutique.com, one of the largest importers and retailers of French Limoges boxes, is proud to announce the launch of its French porcelain Limoges boxes.
Limoges porcelain figurines, Limoges hinged boxes, Limoges jewelry chests, and Limoges dinnerware make excellent holiday gifts. These pieces make a perfect upscale luxury Christmas present and make incredible baby shower gifts. Another idea is giving them as wedding gifts because they are personal and compliment almost every theme as a favor you can imagine. Some other ideas in Limoges gift giving are birthdays, anniversaries, and Valentines day. In fact, Limoges boxes can be given during all of the holidays to simply express thankfulness to friends, family, and loved ones. Rochard Limoges Box designs include dog figurines, art, baby, cats, holiday, music, nativity, sports, hearts, travel, wedding, and zodiac.
LimogesBoutique.com is an authorized dealer and importer of all French Limoges lines and is the largest authorized distributor and retailer of the luxurious line of Rochard Limoges boxes. As one of the largest Limoges dealers in the US, LimogesBoutique.com offers thousands of Limoges boxes in hundreds of styles for every taste and budget. Excellent customer service, same-day shipping and competitive pricing, has made LimogesBoutique.com a most esteemed and trusted source for French porcelain Limoges boxes