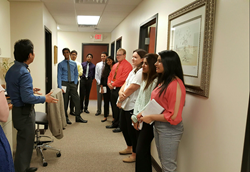 "Life is Electrical"
(PRWEB) August 10, 2017
On Friday, August 11, S.C.A.R.F. will be hosting their Annual Scientific Symposium at the bowling bistro Pinstripes in South Barrington, Illinois from 4 pm to 8 pm.
Over the course of the past year, 30 high school and college students took part in the S.C.A.R.F. Mentorship and Career Guidance program. Students interned with the program for 10 weeks, researching and learning about the various aspects of sudden cardiac death. The program is meant to launch the students into the professional world, and teach them about a possible future career path as a doctor by teaching them the benefits of philanthropy, team work and critical thinking. The Scientific Symposium is the culmination of their hard work, allowing the students to showcase their work and research to the public.
More information regarding the Mentorship and Career Guidance program can be found by visiting the following link: https://www.scarfnfp.org/about-the-program
During the event, S.C.A.R.F. will be donating an automated external defibrillator (AED) to a not-yet-announced public institution.
Dr. Paul Nguyen, founder of S.C.A.R.F. and a board certified cardiologist and electrophysiologist, brings the message home by reminding everyone, "Life is electrical," referencing the split-second electrical malfunction of the heart that is cardiac arrest.
About S.C.A.R.F.
Sudden Cardiac Awareness Research Foundation (S.C.A.R.F.) is a non-profit organization focused on brining awareness and educating the public about sudden cardiac arrest/death, which is the leading cause of death in the United States, responsible for killing more than 450,000 people.
S.C.A.R.F. educates the public through grassroots educational programs to empower the future generation of doctors. They make an effort to spread community awareness and immerse themselves in community health projects regarding the heart disease epidemic. The organization also donates a number of AEDs every year.
Follow S.C.A.R.F. on Facebook and Instagram.
Contact:
Rubina Nguyen DDS
816-510-8437
rdang1(at)yahoo(dot)com