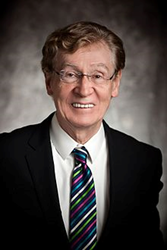 The Father of Momentum Investing
Chicago, Illinois (PRWEB) August 04, 2017
The Association for Corporate Growth in Chicago (ACG Chicago, Inc.), the premier network of professionals focused on driving middle-market investment and growth, is proud to announce Richard Driehaus will receive the 2017 Lifetime Achievement Award. Mr. Driehaus will be recognized on October 17th at Navy Pier during the Midwest ACG Capital Connection. This award recognizes the nation's most important business people who have also changed the world through leadership and example. Mr. Driehaus' distinguished career clearly places him at the top of Chicago's, and the country's, leaders of leaders.
A Chicago native, Mr. Driehaus rose to prominence in the investment community during the 1980s and 1990s by delivering impressive returns using momentum strategies that focused on small and mid-cap stocks. Since the early age of 13, with money earned from a paper route, Mr. Driehaus has been investing money and honing his investment prowess. In an interview for "The New Market Wizards" by Jack Schwager, Mr. Driehaus mentioned gaining inspiration from John Herold's America's Fastest Growing Companies. From here he began to develop his momentum strategies. His early professional career began in companies such as Rothschild & Co, A.G. Becker & Co. and Jesup & Lamont.
Mr. Driehaus founded Driehaus Capital Management LLC in 1982 and is considered to be the architect of it's equity investment philosophy. As chief investment officer, he has overall responsibility for ensuring the integrity of the equity investment philosophy and reviewing absolute and relative investment performance of various equity strategies. Mr. Driehaus has also been credited as The Father of Momentum Investing. Barron named him to its 20th Century All-star Team, identifying him as one of the most influential members of the investment community during the past century.
In addition to his business career, Mr. Driehaus focused his attention and energy on philanthropic and community service projects, both individually and through the efforts of the Richard H. Driehaus Foundation and the Richard H. Driehaus Charitable Trust. This trust is responsible for contributing over $90 Million.
It is appropriate that Driehaus, the Father of Momentum Investing, will be featured at the 2017 Midwest ACG Capital Connection. In its 18th year, this ACG Capital Connection features over 200 of the most active private equity, lender, investment bank and key advisory firms in the Middle Market, with over 1,000 deal makers from over 40 states and foreign cities!
The Midwest ACG Capital Connection will take place October 16-17, 2017 at Navy Pier, 600 East Grand Avenue, Chicago, IL 60611. Those interested in attending the conference can find more information about the event by visiting http://www.2017DealFlow.com.
About ACG Chicago
ACG Chicago is a leader in the Association for Corporate Growth (ACG) global network of over 14,500 professionals. ACG Chicago is the premier network of leading authorities on corporate growth. The Chicago chapter boasts a membership of 1000 foremost authorities who form a diverse and knowledgeable network of corporate executives, capital sources, and key advisors that all share a strong commitment to leadership in the field of strategic corporate growth and to building stakeholder value. The ACG Chicago Board of 20 dedicated members along with almost 100 other committee members focus on the needs of these professionals to build unparalleled opportunities for networking, deal-making, personal growth and professional development. ACG Chicago provides unique access and unparalleled opportunities through local, regional & national events, publications and specialty networks, including operating the MBDA Capital Center for the Department of Commerce.
Visit http://www.ACGChicago.com for more information or call 877-224-6389.