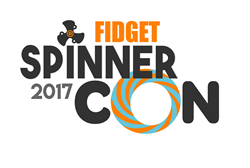 Minneapolis, Minnesota (PRWEB) August 07, 2017
For more information contact:
Aaron Martin
612-968-5139
info(at)fidgetspinnerexpo(dot)com
The World's First Fidget SpinnerCon
Minneapolis, Minn. – Fidget SpinnerCon is pleased to announce the world's first Fidget Spinner Expo and Competition will be held in Minneapolis on Saturday, October 28, 2017. Attendee registration is now open at http://www.FidgetSpinnerCon.com and the first 300 that register will receive a free souvenir fidget spinner at the expo. The event is scheduled to take place at the Hilton Minneapolis/Bloomington, 3900 American Blvd West, Minneapolis, MN 55437. Event hours are 9 am to 5 pm on Saturday, October 28th. The one-day expo features a variety of fidget spinners, games, prizes, free food and beverages, and other cool stuff!
A live competition is scheduled with registration open to the public. Contestants are judged on performance in eight different categories including "best trick" and "longest spin on one finger." Winners will be recognized during an award ceremony immediately following the competition and posted on our website as well.
The early registration discount deadline is September 17, 2017. For full details and to register for Fidget SpinnerCon, please visit http://www.FidgetSpinnerCon.com or send an email to info(at)fidgetspinnerexpo(dot)com.
Fidget SpinnerCon – Bringing the Fidget Spinner industry and enthusiasts together.
An event developed to bring Fidget Spinner manufacturers, suppliers and distributors together to collaborate and promote their products and related products for the people who enjoy them.
Fidget SpinnerCon is sponsored by the Crutchfield Dermatology Foundation. The Crutchfield Dermatology Foundation is a 501(c)(3) non-profit organization created in 2012 to promote good health in Minnesota. Successes include the Foundation's support of a one-of-a-kind lectureship on ethnic skin at the University of Minnesota, providing scholarships for students at the High School of Recording Arts and national history essay winners, and creating articles, educational presentations, on-line materials, and educational books on sun protection and hosting premiere events to help raise funds benefiting the Reading Center for children with dyslexia, and the American Academy of Dermatology's Camp Discovery, a special camp for children with skin diseases.