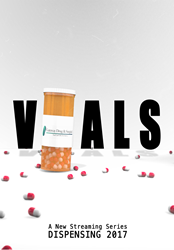 'Drugs and the pharmaceutical industry are ingrained in pop culture,' said Michael Carl Jude, the writer and creator of Vials. The series 'will tackle everything from Xanax and the opioid crisis to healthcare reform and even the infamous Martin Shkreli.'
New York, NY (PRWEB) August 07, 2017
Vials, the first comedy series about pharmacists and the vials they fill for their sometimes vile customers, goes into production this week and will begin dispensing this fall on Amazon.
In "Vials", viewers will be introduced to the staff of Gateway Drug and Surgical, a local pharmacy run by the ornery pharmacist Rich who must contend with unruly customers, a possible corporate takeover, his rebellious daughter Lisa, the arrogant technician Joe, and Doug, the timid intern.
"Drugs and the pharmaceutical industry are ingrained in pop culture," said Michael Carl Jude, the writer and creator of Vials. The series "will tackle everything from Xanax and the opioid crisis to healthcare reform and even the infamous Martin Shkreli."
The six episode first season will be directed by Alexandria Ayala and Chris Karr, the team behind the online series Server Life. "A show that offers a behind-the-scenes look at the life of pharmacists is long overdue," Chris Karr said.
"Vials explores pressing issues within the pharmaceutical industry," Alexandria Ayala said. "Michael wrote a hilarious script about a world we've never experienced."
"Vials" will premiere in the fall of 2017 on Amazon Direct and is produced by Boat Drinks Productions.
The ensemble cast will feature the talents of Alexandria Ayala (Server Life), Elena Weinberg (#ATown), David Lampe (Kopy Kings), Ethan Stites and Sanjay Rao.