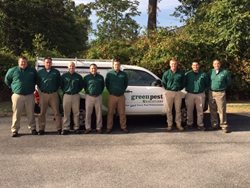 It is an honor to be able to donate our first pest truck to Cars for U.S. Troops. Their support of our veterans coming back from combat is something I could not be happier to contribute to
West Chester, PA (PRWEB) August 07, 2017
As a local business grows it will hit certain milestones, which can be looked back on with a level of affection. From making its first dollar to earning its 10,000th customer Green Lawn Fertilizing, LLC has experienced many of these milestones. However the moments that make the employees at Green Lawn most proud are when it is able to give back to its community. Today was one of those days, as the company retired its first pest truck and donated it to Cars for U.S. Troops.
In 2012 Green Lawn Fertilizing, LLC started a new pest control division called Green Pest Solutions. In the last 5 years, Green Pest Solutions has grown from it's infancy into the largest independent, locally owned pest control company servicing the greater Philadelphia Tri-State area. Green pest Solutions owes its rapid growth in large part to its excellent customer service, which shows in its reputation from 3rd party sources. The company has been an Angie's List Super Service Award Winner 5 years in a row, been named Best of Home Advisor three times, and was named Best of Philadelphia Exterminator by Philadelphia Magazine.
Now that Green Pest Solutions has grown well past the infancy stage of its business it's owner Matt Jesson made the decision to take the first Green Pest Solutions Truck he ever bought out of it's fleet and donate it to a deserving charity. He decided to donate it to Cars for U.S. Troops, because of the respect and admiration he has for the men and women who fight to keep our country safe.
"It is an honor to be able to donate our first pest truck to Cars for U.S. Troops. Their support of our veterans coming back from combat is something I could not be happier to contribute to."
-Matt Jesson
Cars for U.S. Troops is a charity that specializes in supplying used cars, trucks, boats, and just about any other kind of vehicle to veterans and their families and other veteran programs that provide strength and encouragement to the American Veterans who have served our country. If you would like to contribute to their mission please visit http://www.vehiclesforveterans.org.
Green Lawn Fertilizing, LLC has made it a company mission to give back to American Military. The company is an active participant in Project EverGreen's GreenCare for Troops program, which provides complimentary lawn and landscape services for the families of currently deployed military personnel, and post 9/11 disabled veterans with a service-connected disability. It also made a recent donation to the Pennsylvania Department of Military and Veterans Affairs, which provides essential services and programs to PA veterans and their families that otherwise would not be available.
However the event that most prides Green Lawn Fertilizing's employees is Renewal and Remembrance at Arlington National Cemetery. Renewal and Remembrance is the lawn and landscape industries largest day of service to the country where companies from all over the US come to Arlington National cemetery to donate their time and expertise in making our nation's largest military cemetery look beautiful. Green Lawn has participated in this event for eleven consecutive years. Each year several employees from the company come down to Washington, DC to lend a hand in treating the Arlington cemetery turfgrass and 2017 was no different as the company once again brought one of the biggest groups of lawn care professionals to Arlington with 10 employees volunteering their time.
Green Lawn Fertilizing gives back to its community in a number of other ways as well. It annually donates to a local theater called People's Light and Chester County Futures, a program designed to help disadvantaged local youth prepare and attend college. Additionally, it donates to dozens of local youth sports teams as part of it's commitment to its local community.
# # # #
Green Lawn Fertilizing and Green Pest Solutions is an independent lawn and pest control company that was founded in 2004. Under the leadership of Matt Jesson, President and Owner of Green Lawn Fertilizing Green Pest Solutions, they are dedicated to becoming an industry leading company in the Lawn and Pest Industry. In 2012, 2013, 2014, 2015, and 2016 the company has received the Inc. 5000 award for being recognized as one of the 5,000 fastest growing private companies in the America. Both companies are A-rated and accredited by the Better Business Bureau. They perform lawn fertilizing and integrated pest management service for residential and commercial clients. They are active members of PLANET, National Association of Landscape Professionals and NPMA. In 2017, the company received the Readers Choice Award from Philly.com for "Best Pest Control" in the Philadelphia tri-state area.