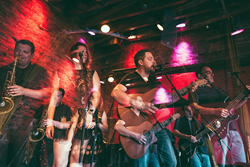 Mike Montrey Band can slide from buoyancy to lament in the space of a few seconds. High-spirited melodies and exploratory musicianship keep this [group] from settling anywhere near easy classification. --Relix Magazine
New York, NY (PRWEB) August 07, 2017
MIKE MONTREY BAND are currently recording their 4th album at famed PLYRZ Studio in Los Angeles, CA. Mike and the band are especially excited to be working with Grammy-winning producer JIM SCOTT, who has put his tasteful sonic stamp on releases by Wilco, Tom Petty & The Heartbreakers, Santana, and Tedeschi Trucks Band, to name a few. The new album by Mike Montrey Band will be called "John Street," and will be released in early 2018 on Water Productions Records—fans will get an early glimpse of the album when two singles are released later this year.
Joining MMB at PLYRZ studio is legendary keyboard player JOHN GINTY, who is known for his soulful, energetic performances with Dixie Chicks, Citizen Cope, Robert Randolph & The Family Band, and others. Ginty is particularly well-loved for his Hammond B-3 organ skills, which will be a refreshing addition to performances by band members Mike Montrey (guitars/vocals), Anthony Duca (bass), Rob Smith (drums), and Jen Augustine (vocals).
The sound of Mike Montrey Band has a rugged outline — awareness of life's tremors pepper the lyrics, sung with a tenor that both trembles and soars, seemingly made for this kind of poetry. Yet it's the high-spirited melodies and flowing, exploratory warmth of the musicianship that keep this group from settling anywhere near easy classification: "indie acoustic singer-songwriter," "sultry jazzy zouk" or "roots" could aptly be applied at any given performance.
Montrey's professional music career began in 2001 with the formation of the band Water, which earned a cult following after several tours that included performances at SXSW, Kitting Factory, Stone Pony, and other prominent venues across the US. In 2007, Mike was invited to join seminal rock band THE SAMPLES, which lead to several world-wide tours as guitarist for the group. The Samples' keyboardist Karl Dietel appears on previous Mike Montrey Band releases, and regularly performs with them in live settings.
While in Los Angeles recording their new album, Mike Montrey Band are performing live at The Viper Room on August 8th. They'll feature songs from their forthcoming album, "John Street," including 'A Lifetime Made Of Glass,' which was recently submitted for National Public Radio's "Tiny Desk" series. (SEE VIDEO).
http://www.MikeMontreyBand.com
#mikemontrey #mikemontreyband #mmb #thesamples #samples #johnginty #tinydesk #npr #viperroom #KarlDietel #JimScott #PLYRZ