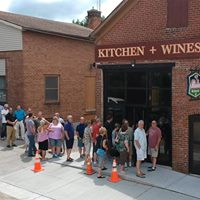 Monroe, Wisconsin (PRWEB) August 06, 2017
Ms. Manjit Minhas, owner of the newly added Minhas Kitchen + Wine + Spirits (MKWS) announced today that effective immediately, the establishment has gone cashless and that it will only take credit and debit cards. She also added that, to the best of her knowledge, hers is the first and only establishment of its kind that has gone cashless in this region of the Midwest.
Ms. Minhas said that since its opening 2 weeks ago. MKWS has had an unbelievable response from the customers and that things were "crazy busy" with long lineups and she has had to turn away customers. She added that this was a necessary move in order to maintain the quality of food and service. It simplifies the operations as the staff do not have to deal with cash and that going cashless was safer for the overworked staff as well as safer for the community in general.
Manjit added that while there has been a number of positive responses, she is stunned by the amount of condemnation and criticism she has received on the social media on its FaceBook page. Here are some examples of the criticism she has received on FaceBook:

Wow! What a load of crap. Wait until the first time the credit card machine fails.
Well guess I won't be going there I only use cash !!! And just for that I will not buy anymore products from there
Huge mistake! Not everyone has checking accounts or credit cards!
Huge mistake. Looked forward to eating here but that has now changed.
In a small town like Monroe , I'm afraid you are eliminating a large portion of potential customers
You really won't accept cash? Guess I won't be eating there
Canadian theory's aren't gonna play in Swiss land They're all millionaires with rolls of cash in their pockets
Just heard about this place today and wanted to try it. Oh, well...plenty of other good places to eat in the area!
Do customers need to get a microchip implant also...?? This is an incredibly poor business decision.
Dumbest thing I've seen hope it's not true I eat in Monroe a lot but I pay cash
Heck! Wow that's sad ! Now we won't be coming to eat there and we live in Monroe! Come back to reality Minhas!
That is one implication, that management does not trust staff to handle cash. Sure there is a security risk with cash. Also a risk of discouraging valuable customers who are always right and want to pay with cash
I think they're making a huge mistake not accepting cash
Makes one wonder if part of their "business" will be trying to steal customers' identity? Then, "Oops! We had a security breach! Sorry, but your information was compromised!" I don't trust a business that won't accept cash. I understand not accepting a check, but cash?
The Minhas Brewery, Distillery and Winery Tour Centers and the gift shops will continue to take cash as well as credit cards. It should be noted that the Minhas Brewery restaurant in Calgary Alberta Canada has been cashless for 5 years.
Although, this move has not affected her business so far, Ms. Minhas will continue to monitor the situation closely.
About Minhas Kitchen + Wine + Spirits (MKSW): Based in Monroe WI, MKSW opened on July 16, 2017 with much fanfare, and offers Affordable Fine Dining paired with 35 award winning wines and spirits, produced right in Monroe by Minhas Winery and Distillery. MKWS is located across from the second oldest brewery in the nation (Minhas Brewery) in the historic and beautiful downtown Monroe. It is housed in a 150 years old building, the oldest in the Green County, it offers historic charms with modern touches including an outdoor Wine Garden.
For further inquiries, please contact Ms. Manjit Minhas at info(at)MinhasKitchen.com. Website http://www.MinhasKitchen.com