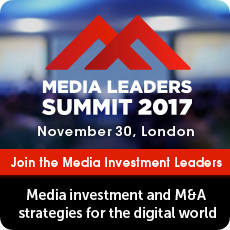 London, UK (PRWEB UK) 4 August 2017
Media Leaders Summit 2017, the leading international event for media company leaders, investors, financiers and advisers to assess digital investment strategies, and merger and acquisition opportunities has been announced to take place in London on November 30, amidst a surge in M&A investment in the media sector globally.
The Summit, which is organised by global investment intelligence publishers TMT Finance, provides a unique platform for Telecom, Media and Tech CEOs, CFOs and heads of strategy, to meet with the leading executives in the financial and advisory sector, including private equity investors, investment bankers and strategy advisers to assess the latest opportunities for growth.
This year's event takes place amidst a surge of mergers and acquisition activity in the media sector globally, with significant deals according to TMT Finance. "We are tracking a significant increase in media M&A activity globally in a range of shapes and sizes," commented TMT Finance Managing Editor, Ben Nice, "This includes mega deals such as Discovery Communications' US$14.6bn bid for Scripps Networks Interactive; the expected US$4-5bn sale of South Africa's Multichoice; Altice' of France's E440m swoop for Portuguese Media Capital; and UK-based B2B publisher Mergermarket's stake sale to Singapore's GIC. We are also currently reporting on the prospective sale of Ericsson's non-core media solutions businesses; Eastern Europe focused Central European Media Enterprises' E230m sale to KKR's United Group; and Blackstone's £600m acquisition of Clarion Events."
Media Leaders Summit 2017 will feature over 50 speakers representing key industry leaders, investors and advisers, on a series of 15 panel discussions, visionary keynote presentations and break out round table debates on investment strategy. The first round of speakers announced includes Discovery Networks International; Modern Times Group; Tele München Group; Orange; YouTube; BT; Channel 4; Lagardère Sports; Linklaters; and Credit Suisse.
Key session themes include: Media and Content Leadership; Media Mergers and Acquisitions; TV Video and Production; Investing in Gaming; Emerging Markets TV; Media Investors Roundtable; Sports Content Rights; and Virtual, Augmented and Mixed Reality.
Media Leaders Summit 2017 takes place at the Grange Hotel St Pauls, London, and follows the TMT Finance World Congress 2017 and TMT M&A Awards 2017, which recognises the leading M&A deal-makers and advisers in the telecom, media and tech sectors globally in 2017.
For more information go to http://go.tmtfinance.com/media-pr