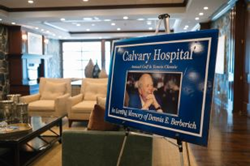 Bronx, NY (PRWEB) August 04, 2017
On July 31, more than 325 people attended Calvary Hospital's 29th Annual Golf & Tennis Classic at Brae Burn Country Club and Century Country Club in Westchester County. The event raised over $300,000 for Calvary programs and services to benefit both patients and their families.
Each year, proceeds from this event's tennis portion support the Dennis Berberich Scholarship Fund for a Calvary Care Technician, who is part of the nursing department. This year's honoree is Nisi Eapen, who joined Calvary as a ward secretary in 2010 and became a CCT in 2015. Nisi is now pursuing her RN -- and ultimately her degree as a nurse practitioner -- at the College of Mount Saint Vincent.
In addition to the golfing, tennis, and dinner, Calvary's event included a performance by comedian Tom Cotter and celebrity auctioneer George Oliphant of WNBC-TV's "George to the Rescue." The breakout star from Season 7 on "America's Got Talent," Cotter was the first comedian to make it that far on the show. Tom's many TV and radio credits include "The Tonight Show," "Last Comic Standing," CBS' "The Late Late Show," as well as his very own show, "Comedy Central Presents…Tom Cotter."
About the Company:
Since 1899, Calvary Hospital has been the nation's only fully accredited acute care specialty hospital devoted exclusively to providing palliative care to adult patients with advanced cancer and other life-limiting illnesses. Each year, thousands of patients receive CalvaryCare throughout the greater New York area. To learn how Calvary can help you and your family, please visit http://www.calvaryhospital.org