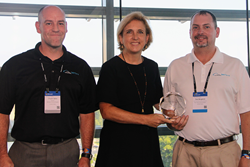 We don't push product or a one-size-fits-all model, even if it means we make less margin – and we're completely transparent about that.
Portsmouth, NH (PRWEB) August 10, 2017
New England IT consulting company, SkyTerra Technologies, today announced it has been named 2017 US SMB Rising Star East Region Partner of the Year by Microsoft's US Small and Mid-sized Business (SMB) Group. Preceded by receiving the award in 2016, it is the second consecutive Microsoft accolade for SkyTerra due to its growth in sales and service with Microsoft's suite of O365 and Azure solutions.
SkyTerra's expansion has resulted from its participation in Microsoft's partnership program, as well as its strategic partnerships with solution providers Veeam and Workspot. With an increased market demand for Microsoft's Security, Mobility and Analytics, Veeam's backup and disaster recovery solutions, and more cost-effective approaches to computer hardware using Workspot – a born in the cloud Desktop as a Service (DaaS) solution, SkyTerra is growing by enabling businesses of all sizes to use cloud technologies with more security and scalability. Veeam states: "Companies are overwhelmed with how to move their data to the cloud, ensuring its protected and identifying the best way to leverage that data. That's where SkyTerra has been successful with customers; they've streamlined the process by focusing less on the technology and more on what a company is looking to achieve. Acting as an independent adviser, they've simplified a company's cloud adoption process by limiting options to only those they know from experience are scalable and will contribute to a company's business goals. We've seen customers become far more confident in the security and ability of the cloud because of their partnership with SkyTerra, I'm sure that explains why they've doubled in size each year for the past 3 years."
Dan Bergeron, Partner at SkyTerra Technologies contributes their award to three things: it's partners, listening and honesty. "We don't push product or a one-size-fits-all model, even if it means we make less margin – and we're completely transparent about that. We look at each engagement with a long-term view as if we're the customer on the other side of the table. Our cloud partners have enabled us to offer more agility and support to customers yet maintain our independent integrity. It feels good advising a business on the options that are truly in their best interest."
About SkyTerra Technologies: SkyTerra technologies is an independent IT consulting company offering cloud services including: data center modernization, managed services, networking, and digital transformation. A Microsoft Gold Cloud Partner, they specialize in advising small to midsize businesses in the financial, biotechnology, and manufacturing industries.