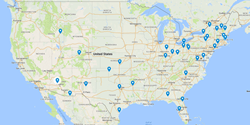 We continue to see high demand for our solution that supports automatic charting in EHRs.
Chicago, Illinois (PRWEB) August 14, 2017
Automatic charting allows anesthesiologists to focus on the dynamic environment in the operating rooms without the distraction of hand-writing down 5 to 15 vital signs every 5-15 minutes. For a procedure that last 2 hours, there are several hundreds of data to be captured. Automatic charting improves quality of care. In the past two years, the Neximatic's solution has been installed in over 40 facilities from medical centers to ambulatory surgery centers, servicing over 300 rooms.
"40 facilities in 2 years is a great achievement of our company," said Bobby Wong, President of Neximatic, Inc. "And we continue to see excitement in the AIMS market for our vital sign streaming solution." In addition of improving the quality of care, automatic vital sign charting provides a rich set of data for analyses among similar procedures. "Some of our customers have started developing new features using our solution," continued Bobby.
A short video on the solution is available at https://www.youtube.com/watch?v=H38Yf9GANVY
Neximatic, Inc is a privately held company offering a patent pending vital sign streaming solution. This solution can be integrated in different electronic health record (EHR) systems to support different features and capabilities. It is a member company of Chicago MATTER, a leading Incubator for healthcare technology.