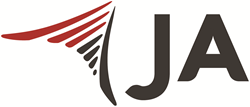 Bedford, IN (PRWEB) August 07, 2017
JA Benefits is thrilled to unveil its new logo and comprehensive brand refresh. The brand refresh efforts will showcase the JA name and brand story and represents our continued investment in key relationships – with our team members, clients and other partners.
The new logo captures the essence of the work JA does; the forward angled shape coming to a narrow focus at the top represents clients entering a process defined by JA called Evolution®. Each point of the mark correlates to a step of the Evolution® process and ties into the core characteristics, culture and beliefs of JA. Finally, the dark gray 'backbone' of the logo represents the people behind JA and the strength, integrity and resilience they bring to the company.
"The new logo represents what our current clients have come to know about us," said Chris Johnson, Partner at JA, "that we are built on a foundation of focused expertise to create innovative solutions that are clearly-defined and well communicated."
Additionally, the company has adopted a new tagline: "Strategy Driven. Future Focused." The new tagline tells what JA does best; consistently demonstrate proactive movement in a future-focused direction.
"JA's new tagline honors our past, embraces our present, and emboldens our future as employee benefits professionals," said Jeff Neal, Partner at JA. "'Strategy Driven. Future Focused.' is a significant indicator of the rebirth of our brand and embodies the strategic changes we have made for the future ahead."
The rebrand is accompanied by a new website launch that features a user-friendly navigation, personalized tools and resources, and a modern design that emphasizes the JA brand.
For more information on JA's new brand and website redesign, please contact Chris Johnson at (800) 633-5960 or visit http://www.jabenefits.com.
About JA Benefits
Since 1988, JA has delivered truly innovative solutions accompanied by vision, clarity and guidance. Bedford, Indiana based, JA is one of Indiana's leading employee benefit broker-consulting firms, specializing in self-funding, as well as fully insured health plans for large and mid-market employers. The firm provides a wide array of client-focused services, including insurance and benefit planning, cost management, performance reporting, compliance services, benefit technology and communications. As well as many professional services, including actuarial services, claims data analysis, legislative compliance, human resources tools, and specialized pharmacy benefits. For more information, visit http://jabenefits.com/.