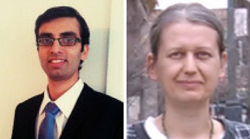 Yorba Linda, Ca (PRWEB) August 08, 2017
This webinar, as part of the Beckman Coulter Life Sciences Virtual Trade Show Virtual Event, will discuss Phase Analysis Light Scattering (PALS) and Raman spectroscopy methods to characterize the H4-IC31 vaccine formulation.
The PALS method can be used to assess vaccine product quality and consistency regarding particle size, zeta potential and conductivity. These parameters can differentiate between the IC31® adjuvant and the H4-IC31 vaccine candidate; hence, the method can serve as a control during vaccine formulation. A tuberculosis (TB) vaccine consisting of a recombinant fusion protein combined with a novel synthetic cationic adjuvant, is in development.
Beckman Coulter Life Sciences has selected two speakers for this event; Dr. Sasmit Deshmukh, an associate scientist at SGS Canada and Sanofi Pasteur Ltd., and Dr. Marina Kirkitadze, Head of Biophysics and Conformation Unit at Sanofi Pasteur Ltd, will both present during this webinar.
Deshmukh received his doctorate in chemistry from Concordia University in Montreal. With more than 10 years experience, his work has focused on extensive multidisciplinary research experience in chemistry, biochemistry and biophysics. He currently serves as an associate scientist at SGS Canada and Sanofi Pasteur Ltd.
As a 15-year veteran of the vaccine industry, Kirkitadze currently is the Deputy Director and Head of Biophysics and Conformation Unit of Analytical R&D Biochemistry at Sanofi Pasteur. She received her doctorate in biological sciences from the Institute of Protein Research at the Russian Academy of Sciences.
LabRoots will host the educational webinar on August 31, 2017, commencing at 7:00 a.m. PDT, 10:00 a.m. EDT. To read more on this event or to register for free, click here.
About Beckman Coulter
Beckman Coulter serves customers in two segments: Diagnostics and Life Sciences. The company
develops, manufactures, and markets products that simplify, automate, and innovate complex
biomedical testing. More than 275,000 Beckman Coulter systems operate in both Diagnostics and Life
Sciences laboratories on seven continents. Scientists use Beckman Coulter's Life Science research
instruments to study complex biological problems, including causes of disease and potential new therapies or drugs.
About LabRoots
LabRoots is the leading scientific social networking website and producer of educational virtual events and webinars. Contributing to the advancement of science through content sharing capabilities, LabRoots is a powerful advocate in amplifying global networks and communities. Founded in 2008, LabRoots emphasizes digital innovation in scientific collaboration and learning, and is a primary source for current scientific news, webinars, virtual conferences, and more. LabRoots has grown into the world's largest series of virtual events within the Life Sciences and Clinical Diagnostics community.