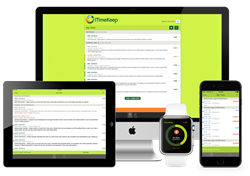 iTimeKeep-Thrive helps law firms to implement, enforce, and measure their time entry policy in a reliable and consistent manner without relying on the subjectivity of human nature
(PRWEB) August 07, 2017
PITTSBURGH, PA August 7, 2017 – Bellefield Systems, LLC, the leader in mobile and anywhere time entry solutions for firms of all sizes, unveiled a first-of-its-kind automated time entry policy management solution, iTimeKeep-Thrive, this morning.
"Creating a time entry policy is only half the battle," according to Gabriela Isturiz, President and Co-Founder of Bellefield Systems. "Ensuring the policy is accessible and easy to monitor is just as important. With this new tool, firms can develop their policy, quickly identify trends, and interact with timekeepers to drive positive habits."
iTimeKeep-Thrive is based on Bellefield's trademarked algorithm, which identifies the compliance or non-compliance of individual attorneys and the firm as a whole. With a simple but informative dashboard, firm executives can see month by month how the firm is performing in compliance with the firm's time entry policy.
Said Isturiz, "We're changing the game with this new solution. iTimeKeep-Thrive helps law firms to implement, enforce, and measure their time entry policy in a reliable and consistent manner without relying on the subjectivity of human nature."
According to Bellefield's 2016 survey, 42% of firms with a time entry policy don't enforce the policy. This is oftentimes due to the manual and subjective nature of enforcement. Isturiz further stated, "With iTimeKeep-Thrive, firm management has a dashboard where they can see how the firm and individuals are performing when it comes to compliance with the firm's time entry policy, which gives them immediate insight into metrics that can directly impact the firm's bottom line."
https://us.vocuspr.com/ViewAttachment.aspx?EID=m4fLTWQF9FFn%2bdIFa1q2tr0rWapkn64P2YbKfaPlXy0%3d
In the above screenshot, management can see how the firm is performing in compliance with the time entry policy, as well as key metrics such as time velocity, late hours, and average hours per attorney.
https://us.vocuspr.com/ViewAttachment.aspx?EID=m4fLTWQF9FFn%2bdIFa1q2tiu2J8rvcEa0fs%2fgv9dm7Ns%3d
Time velocity (the amount of time between work performed and that time being entered into the time and billing system) can cost firms in terms of lost hours when time records are recreated days or weeks after the fact. Part of Bellefield's new solution shows an up-to-the-moment graph of a firm's time velocity.
Bellefield has been nominated for Innovative Solution Provider of the Year by the International Legal Technology Association (ILTA) based on the new iTimeKeep-Thrive solution. According to Isturiz, "We work hard to help every user become a better timekeeper, and we work hard to help every firm see amazing results. To be recognized for our innovative work just makes us that much more committed to being the best time entry/timekeeping partner we can be to the legal industry."
After launching in 2012, iTimeKeep quickly became the most-widely used mobile time entry solution for attorneys. Today, Bellefield continues its relentless commitment to maintaining iTimeKeep's simplicity – allowing attorneys and other professionals to work the way they want to work, anytime, anywhere and any way through its Time Entry as a Service Model (TEaaS). The TEaaS model enables firms and their users to be up and running in a few hours without taxing the resources of the law firm with costly and complex hardware and software implementations. Bellefield's TEaaS model is transforming the way the modern professional services firm works.
About Bellefield Systems & iTimeKeep: Bellefield is committed to helping lawyers improve their work lives by developing innovative and intuitive applications that solve real-world challenges. Bellefield's flagship product iTimeKeep is built with a focus on three simple aims: security, simplicity, and increased revenue for firms. This game-changing mobile application simplifies contemporaneous time entry while eliminating the burdens of complicated and invasive time capture applications. It ranks #1 as the most adopted Mobile Time Entry Solution for attorneys for the fourth consecutive year. Founded by software veterans Gabriela Isturiz, Daniel Garcia, and John Kuntz, Bellefield is an independent, privately held company headquartered in Pittsburgh, Pennsylvania. For more information, please visit http://www.Bellefield.com.