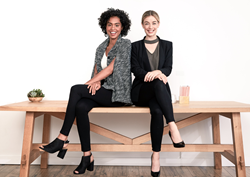 New York, NY (PRWEB) August 09, 2017
Today SuitableYou launched its new style box service specializing in professional wear-to-work wardrobing for women. The company aims to "take the work out of workwear" by building affordable, quality wardrobes that will take them from the office to social events. The company's blog will also provide career and style advice.
Soft launched in fall 2016, SuitableYou sends its members a monthly box filled with five pieces of professional work attire including blazers, pants, skirts, dresses and a selection of accessories. From closet staples such as a black blazer to trendier items like colored jeans, SuitableYou aims to solve the "what to wear to the office everyday" problem facing millennial women as they enter the workforce or establish themselves in the early years of their careers.
"After experiencing this same challenge, I saw a need for a service that helps women transition from college to the working world more easily. SuitableYou provides that personalized solution in offering a great selection of work-wear attire that works within their budget while offering them versatility," says Co-Founder Gillian Brown. "We believe in empowering working women through fashion, and we understand that extra boost of confidence is key while on-the-job."
Unlike other style box services, SuitableYou doesn't just send its members individual pieces. Rather, the company builds wardrobes for its clientele.
The stylist team always selects at least two pieces for each member's box that will work with apparel kept from the previous box so members can have essentially a working wardrobe with interchangeable outfits.
Members boxes are further styled based on budget, work environment, style preferences and lifestyle. Boxes are shipped directly to members' doors where they have four days to try on their SuitableYou items in the comfort of their own home. Only paying for what they keep, members ship back the remaining pieces to the company at no expense to them.
The brand will further reinforce its message of empowerment through a partnership with STRIVE International's Women Empowerment Initiative which supports at-risk women with high barriers to employment. SuitableYou will donate new clothing and facilitate style workshops in order to provide the program's participants with office attire and style tips for interviews and their daily work environment.
SuitableYou offers its members a mix of more than 60 unique brands not easily accessible to consumers in addition to those found in retailers such as Lush, Olive & Oak and J.O.A. Apparel sizes range from 2 to 14 while essential accessories include statement necklaces and bags.
Interested consumers can sign up and receive their first box at http://suitableyou.com.
About SuitableYou:
Founded in 2016, SuitableYou is a style box service specializing in wear-to-work wardrobing for women. The company provides stylish, quality and affordable workwear to empower women in the workplace and beyond as they set out to make their mark in the world. For more information on SuitableYou, visit http://suitableyou.com, or follow on Facebook, Instagram or Pinterest.
Media Contact:
Paris Tyler
press(at)suitableyou(dot)com
646.461.4655