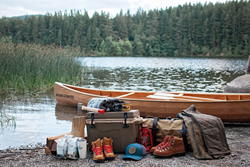 "There's nothing that compares to being outdoors in the Pacific Northwest" Wes Herman
Bellingham, Washington (PRWEB) August 05, 2017
Woods Coffee has been celebrating their 15-Year anniversary all year long, and have announced a major giveaway of over $9,000 in outdoor gear.
Since 2002, Woods Coffee's mission has been to Serving Other, Make a Difference, and Have Fun. Throughout 2017, Woods Coffee has highlighted each of these aspects from their mission statement.
Woods staff has served others through several Guest Appreciation Days, where drinks are only 99¢ during specific times. They've made a difference by volunteering with Habitat for Humanity of Whatcom County at build sites and with the BloodWorks Northwest for a blood drive.
Additionally, as a way for Woods Coffee guests to participate in making a difference in the community, $2 from every sale of Woods Coffee Anniversary Blend Whole Bean Coffee is being donated to local charities, such as Engedi Refuge Ministries, Habitat for Humanity of Whatcom County, and Skookum Kids. So far, over $3,600 has already been sent out.
And now the have fun aspect has just been announced in the form of the Woods Coffee Outdoor Adventure Package Giveaway, valued at over $9,000.
The giveaway runs the month of August, and is open to legal residents of the fifty (50) United States and the District of Columbia who are at least eighteen (18) years old at the time of entry.
Woods Coffee commissioned a custom 17' canoe, and partnered with popular Pacific Northwest brands such as Filson, Danner, Sackcloth & Ashes, and Scenic WA, to put together an impressive package for any would-be outdoor enthusiast.
"There's nothing that compares to being outdoors in the Pacific Northwest," said Wes Herman, owner of Woods Coffee. "To show appreciation for the support our guests have given us over the years, we wanted do something special that would resonate with our guests. We thought, what better than an outdoor package that fits the Pacific Northwest lifestyle?"
Included in the package is the aforementioned 17' custom canoe, Filson gear and outerwear, two pairs of Danner boots (his & hers), a Sackcloth & Ashes blanket, a GoPro Hero, a custom hatchet, a set of canoe paddles, as well as drinkware, gear, and whole bean coffee from Woods Coffee.
To enter the giveaway, guests can either text the word "Woods15" to 66866 and follow the prompts (data rates may apply), or visit WoodsCoffee.com/giveaway for entry and official rules.
###
About Woods Coffee
Woods Coffee was established in 2002 by the Herman family of Lynden, Washington. With a dream of starting a chain of coffee shops, the Herman family pooled their talents and resources to create their first Woods Coffee shop. Today, 15 years later, the company has a total of 19 locations in the Pacific Northwest. Woods offers its own line of fresh, daily baked goods and freshly roasted coffee; and exclusive compost-a-cup brand of compostable cups. In addition, the company uses sustainable design and building practices, achieving LEED® standards where possible.