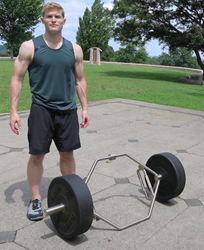 Boston, MA (PRWEB) August 08, 2017
According to a recent 2017 study published in the New England Journal of Medicine, global obesity numbers are at an all-time high with the United States leading the way. William Byrd believes that the ketogenic diet may be an easy and effective way to fight back against the obesity epidemic.
"Despite having access to the latest dietary trends and the healthiest foods, there is still a clear disconnect between the public and healthy eating," says Boston-based fitness trainer and nutrition specialist, William Byrd. "I am confident that the ketogenic diet is the answer."
A fat-focused way of eating, the ketogenic diet suggests getting a majority of daily caloric intake from healthy fat sources. There is a moderate amount of protein in the diet and very little carbohydrate intake. By limiting carbohydrates and promoting fat as fuel, the human body enters a state of ketosis, where ketone bodies, not glucose, are used as energy.
The ketogenic diet has been the subject of a number of key studies, which demonstrate that the diet has the potential to be an effective way to encourage weight loss.
A study published in the Experimental & Clinical Cardiology demonstrated how obese subjects following a ketogenic diet experienced a significant weight loss. Subjects were also reported to have healthier cholesterol levels, lower triglyceride levels, and lower blood glucose.
Byrd realized the important implications of the growing number of studies and began to utilize the diet with his own clients. Upon seeing the success in his own fitness studio, Byrd turned his attention to educating the public.
"Starting a new diet can be overwhelming and this is why I began this website and YouTube channel," says Byrd. "I want people to be able to begin the ketogenic diet and find success. I don't want anyone to give up from frustration."
To get more information on the ketogenic diet, please visit the blog of William Byrd. To find ketogenic diet videos, please visit William Byrd's YouTube Channel. To learn more about William Byrd, visit Elite Training Boston.
CONTACT INFO
150 Belmont St,
Boston, MA
02472, USA
Phone: 617-505-2627
E-mail: will(at)elitetrainingboston(dot)com
###