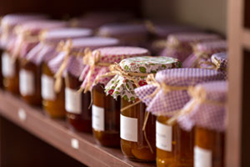 National Peach Month is a great time to think about selling this delicious fruit, in all its many forms.
Denver, CO. (PRWEB) August 08, 2017
Stickers and Labels Make Preserves More Compelling:
National Peach Month is here, and it's time to not only celebrate this juicy fruit but to think about how best to present it to hungry customers. Peaches themselves can be sold with a single sticker on them. Custom labels can be used on more complex products like preserves, jams, jellies and pies.
Orchard owners and small food producers thinking about labels for canning should use National Peach Month as a time to debut exciting new designs. Custom jar labels that combine bold imagery with high-quality printing can convince customers to try these delicious products.
There Are Many Ways to Present Peach Products:
Peach jam, peach jelly, peach preserves - these are all compelling ways to keep peaches on the shelves at farmer's markets and grocery stores well after the fruit is harvested. Whether individuals or companies, growers will want to compete with others to prove their brands are the best. Mason jar lid labels are a prime way to accomplish this feat, using the limited space available on these signature canning jars to maximum effect.
As for the content on those labels, they can contain recipes to grab shoppers' interest, alongside required information such as ingredient lists or potential allergy warnings. When growers use high-quality label printing, they can fit this information plus brand imagery within a relatively small space.
"National Peach Month is a great time to think about selling this delicious fruit, in all its many forms," said Lightning Labels Director of Business Development, AnneMarie Campbell. "Lightning Labels can be a valuable partner for peach growers."
Quick and Easy Label Production:
Lightning Labels is ready to step in as an ideal partner for orchards that have devised new ideas for printable canning labels. Lightning Labels uses all-digital processes to cut turnaround times while delivering great quality, meaning growers can launch their branding efforts inspired by National Peach Month before August ends.
About Lightning Labels:
Lightning Labels uses state-of-the-art printing technology to provide affordable, full-color custom labels and custom stickers of all shapes and sizes. From small orders for individuals to the bulk needs of big businesses, Lightning Labels is equipped to handle and fulfill custom label and sticker projects of all types. Best of all, like the name implies, Lightning Labels provides a quick turnaround for every customer's labeling needs. Uses for Lightning Labels' custom product labels and custom stickers include food packaging and organic food labels, wine and beverage labels, bath and body labels, and nutraceutical products, such as vitamins, essentials oils, and herbal remedies, as well as event stickers, adhesive window stickers and more. Lightning Labels strongly supports the development of environmentally friendly printing materials and carries EarthFirst PLA, a new kind of green label material made from corn instead of petroleum. While operating as a high-tech printer, Lightning Labels prides itself on its personalized customer service. Lightning Labels provides one stop shopping for all of your custom label needs. For more information and to place orders online, visit LightningLabels.com. For the latest in packaging news and labeling promotional offers, find Lightning Labels on Twitter (@LightningLabels), Facebook, Pinterest, Google+ and LinkedIn.