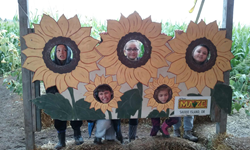 Pathfinder's Bounce Back program will support Portland children who have experienced traumatic events, such as separation from parents due to incarceration or involvement in the child welfare system.
Portland, OR (PRWEB) August 07, 2017
Pathfinders of Oregon is pleased to announce that it has received funding from Portland Children's Levy to implement a new, culturally responsive and trauma-informed after-school enrichment program for children whose parents are involved in the criminal justice system. Bounce Back will provide group trauma intervention, homework help, culturally responsive activities and summer day camp to 40-48 children per year in grades 3-5 at Lincoln Park, Lents, Parklane and Alder elementary schools, located in East Multnomah County.
Designed to support elementary-school children who have been exposed to traumatic events, Bounce Back helps children develop cognitive-behavioral coping skills and relieves symptoms of child traumatic stress, anxiety, depression and functional impairment. The curriculum, developed in schools serving diverse, multicultural and multilingual students, addresses the culturally specific needs of low-income children of color, a population that disproportionately experiences separation from parents due to incarceration or involvement in the child welfare system.
"Parental incarceration is a devastating adverse childhood experience for children that impacts their ability to succeed in school," explains Alison Dunfee, Pathfinders' director of Community Programs. "We are excited to be able to expand our Mentoring Inside Out program by adding after-school support and trauma intervention to children impacted by parental incarceration."
In addition to on-site school support offered by Bounce Back, participating children will receive one-on-one mentoring, tutoring and advocacy as part of Mentoring Inside Out, the research-informed youth mentorship program currently offered by Pathfinders at the Center for Family Success. As part of Bounce Back, parents and/or caregivers will have the opportunity to attend parent education sessions located at each of the schools, and will also be invited to attend parenting classes at the Center for Family Success.
For more information, please visit https://www.pathfindersoforegon.org.
Pathfinders of Oregon is a 501 (c) (3) social service agency founded in 1993 with a mission to provide justice-impacted individuals and families the tools and support they need to be part of safe and thriving communities. Pathfinders of Oregon provides cognitive-behavioral programs, parenting programs, education and support services for pro-social living to adults in the Oregon prison system and to children and families in the community.