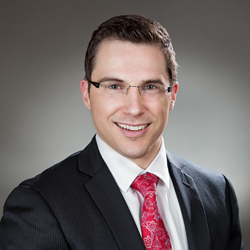 My conviction has never been higher, as I see the way that DM has impacted the businesses and lives of countless physicians and healthcare professionals.
(PRWEB) August 08, 2017
DoctorsManagement (DM) announced the appointment of Gene Good as Chief Executive Officer effective August 1, 2017. Paul King will remain in the role of President and Chairman of the DoctorsManagement Board.
"This is the perfect time for Gene Good to become the next Chief Executive Officer for DoctorsManagement. We've selected a very strong leader at a time when DM is in a very strong position," said DM President Paul King. "The pace of change in today's healthcare environment is unbridled. Every medical facility, be it small or large, is inundated by unrelenting regulations and requirements placed upon today's providers and staff. DM's role in this healthcare evolution has never been more important. Gene will thrive in this highly charged environment, and he will be capable of accelerating what is already working well for DM's clients. He is unique in his ability to hold to a vision and strategy that facilitates results. His knowledge of the healthcare industry will lead the company with the speed and dedication required to help providers and administrators deliver quality patient care in a very fragmented marketplace. A protector of private practice, Gene has the incredible ability to inspire, energize, and connect with others. His vision, passion and execution are the set of skills that DM needs as we enter our next chapter, which I am confident will be even more impactful and exciting than our last."
Good joined DM in March of 2009 and has moved quickly through the company's ranks. He has helped lead and execute many of the company's strategic shifts that resulted in significant revenue and profit growth. He continues to serve as DM's director of consulting and compliance services leading these services into double-digit growth for the company.
"When I joined DM I saw the possibilities with the firm were limitless. My conviction has never been higher, as I see the way that DM has impacted the businesses and lives of countless physicians and healthcare professionals." Gene Good continued, "Over the past 30 years, Paul King's vision and dedication have built DM into one of the most comprehensive healthcare consulting firms in the country. The opportunity for the company to make a positive impact in the healthcare industry for years to come is enormous, and the ability to lead this next chapter is deeply humbling and incredibly exhilarating. I am focused on advancing our leading-edge position in a way that reaches as many healthcare facilities as possible. Our clients' success is what fuels our drive and commitment. Our industry is in the midst of the most turbulence that we've ever encountered. I couldn't be more committed to any cause or more honored to lead this amazing and dynamic firm."
As President and Chairman of the Board, Paul King will continue to devote his time to supporting strategic initiatives, engaging with clients and helping to further DM's leadership role in the business of medicine. King has served as CEO and President of DM since 1987, having purchased the company from its founder, Robert C. Fraim. During his tenure, the company has grown from a small consultancy into a full-service management consulting and healthcare analytics service provider.