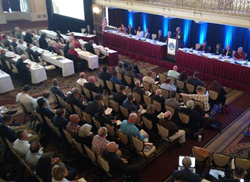 "The old method was archaic, but it was also cherished by many members. But this voting system is incredibly efficient and, aesthetically, it adds an interesting flare to our meetings."
Lincoln, Nebraska (PRWEB) August 08, 2017
For the first time in the 112-year history of the National Conference on Weights and Measures (NCWM), delegates did not need to raise hands or placards to vote, then wait to be counted and wait even longer for the votes to be tallied and read from the podium. That's because the standards development organization successfully implemented an electronic voting system using wireless keypads at the 2017 NCWM Annual Meeting.
NCWM uses a 2-house voting system for adopting or amending United States weights and measures standards for use in commerce. In the past, the House of State Representatives would vote by raising a placard bearing the name of their state. The House of Delegates would vote by raising their hands. The process was time-consuming and, on close votes, sometimes resulted in recounts extending the session even longer. With the electronic system in place, a vote can be completed in about 30 seconds with the results in full display for meeting attendees.
2017 NCWM Chairman Kristin Macey of the California Division of Measurement Standards was very happy to see this system work so well in her year at the helm. "The old method was archaic, but it was also cherished by many members," she said. "But this voting system is incredibly efficient and, aesthetically, it adds an interesting flare to our meetings."
The 2-house voting system was a bit of a challenge for CLiKAPAD, the UK-based company that created the voting system. But they overcame and the result was a resounding success. The software collects the voting data and integrates with Microsoft PowerPoint. Attendees can see how each state representative votes and the vote count in both houses, even as the votes are coming in.
The National Conference on Weights and Measures is a professional nonprofit association of state and local weights and measures officials, federal agencies, manufacturers, retailers and consumers. NCWM has developed national weights and measures standards since 1905. The organization brings the right interests together to keep pace with innovative advancements in the marketplace.