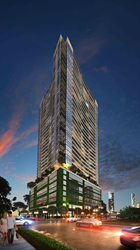 "As the name CANVAS suggests, art is integral to our vision for this condominium," said Nir Shoshani, principal of NR Investments.
Miami, Fla. (PRWEB) August 08, 2017
Daniel "Krave" Fila, a multi-faceted street artist and painter best known for his oversized murals in Miami's Wynwood neighborhood, has been tapped to curate a massive, thought-provoking collection of original works by accomplished contemporary street artists for CANVAS, a 37-story condominium tower currently under construction in Miami's Arts + Entertainment District. Once complete, it is believed the compilation will be the largest collection of urban art ever installed in a residential setting in the Southeast U.S.
More than 20 artists (including Krave) from around the globe will develop original artworks and large-scale murals for the corridors and common areas on approximately 27 floors. The project promises to transform CANVAS, which opens in March 2018, into an art lover's paradise…and one of the most unique condominiums in all of South Florida. Developer NR Investments, founder of the Arts + Entertainment District and developers of CANVAS, commissioned the collaborative art project. In total, 83 original murals will be created, along with framed prints of at least 162 works of art – each crafted specifically for CANVAS.
"As the name CANVAS suggests, art is integral to our vision for this condominium," said Nir Shoshani, principal of NR Investments. "So when we started thinking about how to realize this vision, we knew we had to think big and it had to relate to the urban setting, which is a big part of what defines CANVAS and the entire Arts + Entertainment District. Krave was the perfect partner because he embodies Miami: multicultural, provocative, entrepreneurial, and immensely creative. He is also a good collaborator, which is essential considering the scale of this project."
Krave, an active Miami graffiti artist since 1995 who is best known for his signature character "The Fresh Monkey" and his semi-nude mural "The Sunbather," views CANVAS as an opportunity to create a powerful experience for residents and to give "other reputable artists a chance to get creative in such an intimate setting."
"Imagine you're walking out of your condominium and you see this vibrant, larger-than-life mural," he explains. "That's going to create a feeling, an experience. That art is going to stimulate you, sometimes challenge you. There will be mural concepts designed to spark interaction between one another – something residents can talk about and come together around. It's so much more personal than, say, walking down a sterile white corridor to your 'unit.' Living at CANVAS will literally feel as though one is living within the threads of a canvas."
Fila hand-picked 20+ artists, each with some connection to him or Miami, to participate in the project. Concept work began in his Little Havana studio this summer, and work will start on the property itself – which opens in March 2018 – toward the end of the year.
The works of art will range in variety and scale, and will include original murals -- many as wide as 70 feet, most of them interactive -- as well as six to eight framed pieces on each floor. The art will cover multiple genres, styles, subject, and mediums…much like the artwork in one's own home.
"We're in the context of a safe residential space, of course, but the art itself – the aesthetic – will be edgy, modern and urban," he explains. "As street artists, we get our inspiration from these outdoor environments that are very chaotic, but if you are a good artist, then your work will maintain those qualities wherever it is placed."
Below is a list of the participating artists. Each piece will be reflective of the artists and their unique styles. Brian Butler, for instance -- a Miami illustrator and muralist -- will create an interactive piece on every residential floor, allowing residents to draw or write whatever inspires them.

Adam Atomik Vargas – Miami, Fla.; painter, aerosol
Alex Face Bkk – Bangkok, Thailand; street artist/painter, aerosol, acrylic
Brian Butler – Miami, Fla.; illustrator, pen and ink, acrylics
Chi Kit Kwong – Hong Kong; illustrator, painter, oil-based paint
Claudio Picasso – Miami, Fla.; muralist, painter
Daniel "Krave" Fila – Miami, Fla.; muralist, painter
David Lavernia – Ft. Lauderdale, Fla.; muralist/illustrator, pen and ink, acrylic, aerosol
Didi Contreras – Miami, Fla.; painter, acrylic, aerosol
Emanuela Carratoni – Rome, Italy; illustrator, digital art
Hec One Love – Miami, Fla.; muralist, water-based enamel and aerosol paint
Henn Kim – Seoul, South Korea; illustrator, pen and ink, digital
Jeremy "Raskoe" Nichols – Portland, Ore.; illustrator, charcoal, graphite and aerosol
Judd Patterson – Miami, Fla.; photographer
Kazilla – Miami, Fla.
Liza Sylvestre – Illinois; painter, watercolor
Marcos Javier Garcia – Miami, Fla.
Mario Aldecoa – Miami, Fla.
Olga Hayon – Miami, Fla.
Raymond "Gems" Adrian – Miami, Fla.; contemporary artist
Ross Ford – North Carolina; painter, acrylic and water-based paints
Terms Bsk – Oakland, Calif.; graffiti artist/painter, aerosol, acrylic
Yuhmi Collective – Miami, Fla.
Located at the crossroads of Miami's most dynamic, urban neighborhoods, CANVAS is a 513-unit condominium tower featuring one- and two-bedroom units as well as studio apartments. The art- and design-inspired condominium offers dramatic views of Biscayne Bay, the Atlantic Ocean, and extraordinary access to public transportation. Located in the heart of the Arts + Entertainment District, CANVAS is surrounded by gourmet restaurants, speakeasy-inspired bars and world-class performance venues. Amenities include sunrise and sunset pool decks, a serene indoor/outdoor yoga garden, a state-of-the-art gym, a glass-enclosed racquetball court, Zen spa/sauna treatment rooms, and a multimedia screening and theater facility.
CANVAS, which tops off in August, is expected to be move-in ready by the end of Q1 2018. Prices for residences range from $390,000 to $654,000, with sizes encompassing 620 sq. ft. to 1,110 sq. ft. Sales at CANVAS are being exclusively brokered by Fortune International Realty. For more information, contact CANVAS Sales Director Jessika Gomez at (786) 355-7504 or jessikagrealtor(at)gmail(dot)com or visit http://www.canvascondos.com.
About NR Investments
NR Investments (NRI) is a fully integrated and privately held real estate investment company based in Miami and the visionary behind Miami's burgeoning Arts + Entertainment district of Greater Downtown Miami. NRI holdings include large-scale office buildings, condominium and rental building developments, commercial shopping centers, and multi-family housing located around the world. Helmed by its two principals, Ron Gottesmann and Nir Shoshani, NRI has acquired more than 5,000 commercial and residential units since its inception and currently has approximately one million square feet of rental and converted office condominium product on the market. NRI's mission is to create neighborhoods, shape cityscapes and foster a sense of community amongst residents and visitors alike. As such, the firm focuses on property repositioning by acquiring underperforming buildings in high visibility locations and rehabilitating them to their fullest potential through extensive renovation and management restructuring, and converting leased office space to for-sale office and condominium product. For more information, visit http://www.nrinvestments.com or call (305) 625-0949.