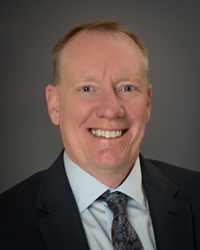 Tampa, Florida (PRWEB) August 07, 2017
CSCU, one of the nation's largest payments processing associations, today announced that Robert Hackney, President and CEO, will be retiring at the end of the year. Hackney has served the company for nearly two decades. As part of CSCU's longtime succession plan, Tom Davis, SVP of Finance and Technology, will assume the role of President and COO effective immediately and become CEO effective January 1, 2018.
Davis has been with the company for more than 10 years and is a recognized subject-matter expert in finance, technology, payments and strategic planning. Over his tenure as SVP, he has implemented, managed and built many new business initiatives to grow the company and better serve the credit union industry. He currently serves on the Federal Reserve's Faster Payments Task Force and the CUNA Payments Advisory Committee.
"We are thrilled to have selected Tom from a field of renowned candidates. Tom's expertise in payments and technology are exactly what CSCU and our credit unions need to position us for growth," said Barry Shaner, chairman of the Board of Directors for CSCU. "Bob was CSCU's very first employee, and his leadership and contributions to the company are beyond measure. Although he will be sorely missed, he leaves a legacy behind."
Hackney retires with 19 years of service with CSCU. In that time, the credit union service organization has grown extensively to become the nation's largest card processing association. In 2006, Hackney was named to the VISA board of directors to represent the credit union industry. More recently, Hackney and his team have ushered in a new era of payments technology and growth for credit unions as the payment industry has evolved rapidly because of risk mitigation and emerging payment platforms. Through it all, Hackney credits the board and his staff as the most significant aspects of his role.
"The highlights of my career at CSCU will forever be the incredibly talented and dedicated people I have met and the deep relationships that I have developed over the years. From credit union employees to our business partners, the CSCU staff and the Board – we've all passionately served with a focus on growing an important segment of the financial services industry," Hackney said. "It's been an incredible 19 years, and I feel very honored and privileged to have been CEO."
Davis and Hackney will remain working side by side until year end to ensure that CSCU members continue to grow their revenues and member services in this ever-changing payment technology landscape.
"My history with CSCU has allowed me to be very tuned into the future of growth for credit unions," said Davis. "The industry is changing rapidly and credit unions continue to be asked to do more with less resources. I'm committed to bringing the next level of services and solutions to help credit unions assist their members and continue to serve their communities."
Davis was previously with Software Architects, where he managed development projects for various industries, including financial services. He is a graduate of Missouri State University and has his M.B.A. from the University of South Florida, where he graduated with honors.
About CSCU
CSCU knows about cards and payments. As a leading provider of processing services to credit unions, CSCU delivers solutions to help simplify the increasingly complex world of payments. Through one-on-one portfolio consulting, industry insights, marketing and thought leadership resources, their goal is to help credit unions not just survive, but thrive.