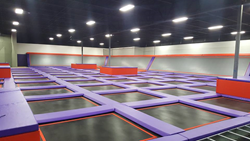 Glen Carbon, Illinois (PRWEB) August 04, 2017
We are pleased to announce that effective August 2, Altitude Trampoline Park has transitioned to new ownership and as a result will remain in the Glen Carbon community. Despite the recent reports ALTITUDE is thrilled to be able to continue to be a part of the Glen Carbon community! We value all of our customers and invite you back in to experience the new Altitude Trampoline Park at Glen Carbon. New ownership will begin reinvesting in upgrades to the facility, events, and décor over the coming weeks and months. Our friendly staff would be pleased to help answer any questions you may have during this transition. We appreciate your business and look forward to adding new exciting events and promotions to Glen Carbons premier Trampoline Park!
Visit our website at http://www.altitudegc.com for updates, birthday party reservations, and more! Like us on our Facebook page at http://www.facebook.com/Altitude-Trampoline-Park-Glen-Carbon-339500033167897/ or follow us on Instagram @altitudeglencarbon to see exciting park developments and special information about our park!