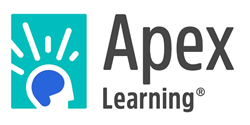 Seattle, WA (PRWEB) August 08, 2017
Apex Learning, known for rigorous, standards-based curriculum proven to increase student outcomes, announced today that Apex Learning Indiana Tutorials have been pre-approved by the Indiana Department of Education for the state's Formative Assessment Grant. Designed specifically for the Indiana Academic Standards, Indiana Tutorials help districts raise exam scores, improve course pass rates and increase college and career readiness through focused instruction, practice and review.
The Indiana Formative Assessment Grant offers funding for formative assessment programs "to increase data-driven instructional practices and enrich learning for all students." Schools and districts throughout Indiana that apply for the grant will be approved if they are using Apex Learning Tutorials. The grant is available to all Indiana public school corporations, charter schools and accredited non-public schools. Funding is available now for the 2017–2018 school year. For more information, visit: http://www.doe.in.gov/assessment/formative-assessment-grant.
Tutorials make it easy for teachers to identify individual student learning needs. Adaptive remediation individualizes the learning plan for each student, identifying learning gaps and providing the remedial instruction necessary to prepare each student to master grade-level content. With an interactive app-like design, each student engages in learning focused on what he or she needs to know to pass their courses and to improve performance on the Indiana Statewide Testing for Educational Progress-Plus (ISTEP+) End-of-Course Assessments.
In a national study, Apex Learning Tutorials have been proven to increase student performance by 19 percentile points. Struggling learners are supported by focused instruction and practice with scaffolds and feedback that supports student understanding of concepts. Indiana Tutorials are available for 6th to 12th grade math and English language arts.
"We are pleased that the funding available through the Formative Assessment Grant will now provide districts across Indiana with access to the highest quality digital curriculum proven to increase student outcomes," said Cheryl Vedoe, CEO, Apex Learning.
For information about Indiana Tutorials, visit: https://cdn.apexlearning.com/al/indiana_tutorials.pdf.
About Apex Learning
Schools and districts nationwide implement Apex Learning digital curriculum to personalize the learning experience and support success for all students—from those who are struggling to those capable of accelerating. Proven to increase outcomes, Apex Learning digital curriculum actively engages students in learning, with embedded supports and scaffolds to meet the needs of diverse learners. During the most recent school year, there have been more than 3.6 million enrollments in Apex Learning digital curriculum. Headquartered in Seattle, Apex Learning is accredited by AdvancEd and its courses are approved for National Collegiate Athletic Association eligibility. For more information, visit http://www.apexlearning.com or call 1.800.453.1454.