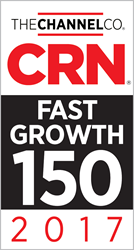 As our customers continue to transform the way technology drives their business, our Cloud Enabled Enterprise focus has been a catalyst for our rapid growth
Chicago (PRWEB) August 07, 2017
IDS, a leading data center technology integrator and cloud services provider, has been named to The Channel Company's 2017 CRN® Fast Growth 150 list for the third consecutive year and is ranked at No. 55.
The Fast Growth 150 List is curated by CRN, The Channel Company's multimedia network, and annually ranks North America-based technology integrators, solution providers, and IT consultants that have earned a minimum of $1 million in gross sales over a two-year period. The companies recognized this year have reported total, combined revenue of more than $16,717,688,643.
"All of us at IDS are incredibly proud to be recognized on the CRN Fast Growth 150 list for the third year in a row" said Justin Mescher, Chief Technology Officer at IDS. "As our customers continue to transform the way technology drives their business, our Cloud Enabled Enterprise focus has been a catalyst for our rapid growth. We are all humbled by our recent successes and thank our customers and partners for their continued loyalty."
In the past few months alone, IDS has been recognized for its success on the Crain's Chicago Fast 50, and CRN's Solution Provider 500 List, for the seventh and fifth times, respectively.
"The companies on CRN's 2017 Fast Growth 150 list are thriving in what is now a very tumultuous, demanding IT channel climate," said Robert Faletra, CEO of The Channel Company. "This remarkable group of solution providers has successfully adapted to a landmark industry shift away from the traditional VAR business model to a more services-driven approach, outpacing competitors and emerging as true channel leaders. We congratulate each of the Fast Growth 150 honorees and look forward to their continued success."
The Fast Growth 150 list is highlighted in the August issue of CRN and can be viewed online at http://www.crn.com/fastgrowth150.
About IDS
IDS is a data center technology integrator and cloud services provider backed by an award-winning IT consulting practice. IDS works with a select list of industry leading technology partners to deliver custom IT solutions. Primary areas of focus are storage, data protection, disaster recovery, data analytics, virtualization, mobility, networking, servers, security, managed services, and cloud. Since its founding in 2002, IDS has experienced incredible growth and is recognized for its forward thinking solutions that provide improved efficiency, flexibility, performance and competitive advantage. Learn more at http://www.idsforward.com.
About the Channel Company
The Channel Company enables breakthrough IT channel performance with our dominant media, engaging events, expert consulting and education, and innovative marketing services and platforms. As the channel catalyst, we connect and empower technology suppliers, solution providers and end users. Backed by more than 30 years of unequaled channel experience, we draw from our deep knowledge to envision innovative new solutions for ever-evolving challenges in the technology marketplace. http://www.thechannelco.com