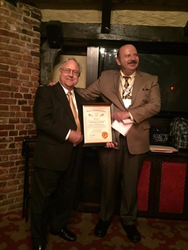 "Each of these physicians has a natural ability to lead." —John Nichols, MD
Charlotte, NC (PRWEB) August 08, 2017
Strategic Radiology CEO Arl Van Moore Jr., MD, and three other radiologists from Charlotte Radiology were inducted into the Order of the Long Leaf Pine, one of North Carolina's highest honors.
Along with Moore, Robert Lackey, MD, Dale Shaw, MD, and Christopher G. Ullrich, MD, were recognized for their dedication to patients, their role in educating future radiologists, and for improving health care for the citizens of North Carolina.
"Building a medical practice here with my colleagues over five decades has woven our lives into the community in countless ways," said Moore, who joined Charlotte Radiology in 1983. "It is humbling to have our efforts recognized by Governor Roy Cooper."
The 108-radiologist Charlotte Radiology is among the largest private radiology practices in the United States. It is a founding member of Strategic Radiology, a national coalition of 26 private radiology practices let by Moore that represents 1,600 radiologists.
"Each of these physicians has a natural ability to lead," said John Nichols, MD, vice president of the North Carolina Radiological Society (NCRC), which advocated for the honorees. "Their long-term support and senior roles in both organizations, including roles as councilors and presidents in the NCRS, resulted in major support and guidance for North Carolina health care and governmental organizations during decades of major advancements in the field of radiology."
Moore served as president of Charlotte Radiology for 15 years and as chairman of the board of the American College of Radiology; a founding member of Charlotte Radiology in 1967, Lackey helped develop the radiology department at Charlotte Memorial Hospital, now Carolinas Medical Center; Shaw led the NCRS Annual Breast Imaging Conference for 25 years, educating physicians across the state on breast imaging innovations; and Ullrich, a national advocate for excellent radiologic patient care, recently served as Chair of the North Carolina State Health Coordinating Council.
About Strategic Radiology
Strategic Radiology is a national coalition of 26 private radiology practices that seek to achieve higher quality patient care and more cost-efficient medical imaging through shared data and clinical expertise. Members have access to the only Patient Safety Organization dedicated specifically to the improvement of medical imaging and listed by the Agency for Healthcare Research and Quality.
SR Core Members:

Advanced Radiology Services; Grand Rapids, MI
Austin Radiological Association; Austin, TX
Central Illinois Radiological Associates; Peoria, IL
Charlotte Radiology; Charlotte, NC
Diversified Radiology; Denver, CO
Huron Valley Radiology; Ann Arbor, MI
Integra Imaging; Washington State (Inland Imaging and Seattle Radiologists)
Jefferson Radiology; Hartford, CT
Mountain Medical Physician Specialists; Salt Lake City, UT
Northwest Radiology; Indianapolis, IN
Quantum Radiology; Atlanta, GA
Radiant Imaging, Inc.; Pasadena, CA including The Hill Medical Corporation
and Arcadia Radiology Medical Group divisions

Radiology Associates of North Texas; Dallas/Fort Worth, TX
Radiology Associates of South Florida; Miami, FL
Radiology Ltd.; Tucson, AZ
Southwest Diagnostic Imaging; Phoenix, AZ and affiliates EDVI Medical Imaging
and Scottsdale Medical Imaging and Valley Radiologists

University Radiology; East Brunswick, NJ
SR Affiliate Members:
Casper Medical Imaging and Outpatient Radiology; Casper, WY
Medical Center Radiology Group; Orlando, FL
Modesto Radiologic Medical Group (MRMG); Modesto, CA
Professional Radiology, Inc.; Cincinnati, OH
Radiologic Medical Services; Iowa City, IA
Radiology Associates, Inc, Jeffersonville, IN
Radiology Associates, PA, Little Rock, AR
Rome Radiology Group; Rome, GA
Southeast Radiology, Ltd.; Glen Mills, PA