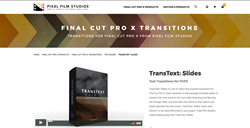 This new set of transitions was inspired by video blogs.
Aliso Viejo, CA (PRWEB) August 04, 2017
TransText Slides is a set of video blog inspired transitions for Final Cut Pro X. Each transition in this package smoothly slides or rotates from one scene to the next while darkening and blurring the footage. Next, text animates into frame so that editors can fluidly describe the next scene. TransText Slides' basic style allows it to be used effectively in any project. Pixel Film Studios makes editing easy with TransText Slides.
TransText Slides is the perfect complement to any video. Fluidly introduce a new section using the amazing transition presets included in this package. TransText Slides' style allows it to be used perfectly with video blogs, travel videos, tutorials, and many more.
This package contains a plethora of text animation options. Scale, fade, rotate, position, track and more to animate text in and out of frame by selecting one of the included transition presets. In the inspector window, choose whether to animate by character, word, line or all. Then, opt to animate forwards, from center or randomly. Finally, edit the spread and/or amount using intuitive sliders and choose intro and outro speed methods from a drop-down menu.
TransText Slides gives users 8 options to smoothly move from one shot to the next. By choosing an option from the drop-down menu animations can be changed on the fly. Editors are give options to slide in new shots from the top, bottom, left or right directions. Alternatively, they can rotate new scenes in along the X or Y axis. Lastly, the blur and tint amounts can be edited with easy-to-use sliders.
TransText Slides is a Final Cut Pro X exclusive product created by Pixel Film Studios. To use, simply drag a selected preset from the Transitions Browser into the FCPX timeline between two clips. Once applied, adjustments can be made by stretching the ends of the transition to change the duration of the effect. Pixel Film Studios makes editing easy in Final Cut Pro X.
Established in 2006, Aliso Viejo, California-based Pixel Film Studios is an innovative developer of visual effects tools for the post-production and broadcast community. Their products are integrated with popular non-linear editing and compositing products from Apple FCPX. Apple, the Apple logo, Mac OS X, and Macintosh are registered trademarks of Apple Inc. in the U.S. and/or other countries. All other trademarks and trade names are the property of their respective owners.