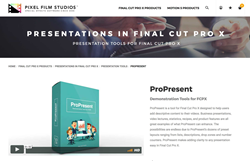 This FCPX Tool makes it easy to add content to videos and prepare presentations.
Aliso Viejo, CA (PRWEB) August 08, 2017
ProPresent is a tool for Final Cut Pro X designed to help users add descriptive content to videos. Business presentations, video lectures, statistics, recipes, and product features are all great examples of what ProPresent can enhance. The possibilities are endless due to ProPresent's dozens of preset layouts ranging from lists, descriptions, drop zones and number counters. ProPresent makes adding clarity to any presentation easy in Final Cut Pro X.
ProPresent pulls out from personal footage to display a 3D environment with descriptive text while the footage continues to play in a box within the environment. Once ProPresent nears its' end, the camera will move backwards and return to the footage at its full-size. This is the perfect tool for emphasizing points, introducing new sections and displaying features during a specific point in a video.
Using ProPresent in the timeline is easy. Simply choose a preset from the Titles Browser and drag it on top of media in the Final Cut Pro X timeline. Then, place ProPresent in the desired timecode for where the animation is to begin. Squash and stretch ProPresent to adjust the duration of the effect for longer or shorter sequences.
ProPresent includes many types of layouts: descriptions, lists, drop zone templates, and number counters. These unique designs allow users to present in a variety of styles. Business meetings, online lectures, recipes, product features, quotes, statistics, new sections and general information can all be displayed effectively using one of ProPresent's professionally designed presets.
Users can make a variety of adjustments to ProPresent environments with the controls laid out in the inspector window. Adjust the position and rotation of the shot, tweak the angle and accent features of the text area, change colors, adjust reflectivity and many more. Pixel Film Studios makes editing easy with ProPresent in Final Cut Pro X.
Established in 2006, Aliso Viejo, California-based Pixel Film Studios is an innovative developer of visual effects tools for the post-production and broadcast community. Their products are integrated with popular non-linear editing and compositing products from Apple FCPX. Apple, the Apple logo, Mac OS X, and Macintosh are registered trademarks of Apple Inc. in the U.S. and/or other countries. All other trademarks and trade names are the property of their respective owners.