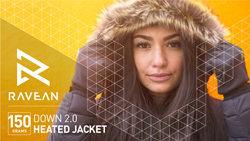 SeedInvest is a superb platform for rapid growth startups like ours. It allows our fans and customers to join us on our mission, and grow with us.
Provo, Utah (PRWEB) August 07, 2017
Ravean, the smart apparel that allows users to control their temperature, direct heat where they want it, and charge their mobile devices on the go, is now accepting investments on SeedInvest.com.
SeedInvest is an equity crowdfunding platform that only accepts approximately one-percent of the companies that apply. Thanks to Ravean's track record as the most successful heated apparel product in crowdfunding history and over 30,000 items sold to date, Ravean passed the extensive SeedInvest vetting process and is now offering the opportunity for everyone to invest in them.
"Our mission is to become the number-one powered and heated wearables brand in the world," said Ravean co-founder Bryce Fisher. "SeedInvest is a superb platform for rapid growth startups like ours. It allows our fans and customers to join us on our mission, and grow with us. Usually early investment opportunities like this are limited to wealthy insiders, but on SeedInvest you can own a piece of our company for as little as $500."
Ravean was founded in 2015 and before launching partnered with the "Godfather of heated technology", Steven Yue, the inventor and factory owner of leading heated wearables technology. On October 1, 2015, after securing a perpetual exclusive license to five worldwide patents, Ravean launched its heated jacket on Kickstarter and it became the second most funded apparel item in crowdfunding history. Ravean has since raised more than $2.6 million crowdfunding, and generated lifetime revenue of $4.5 million (including deferred revenue).
The Ravean team has 60+ years of combined manufacturing and supply chain experience, 30+ years of brand and product development experience, and 10+ years of e-commerce and marketing experience and is poised and ready to grow to the next level.
To learn more about Ravean and the SeedInvest opportunity visit:
https://www.seedinvest.com/ravean/seed
About Ravean
Ravean is a lifetime in the making. It all started with our partner Steven Yue. After becoming an electrical engineer, Steven worked for Intel and Hewlett Packard in the eighties. After years of success, he left to start a venture of his own. In 2003, Steven invented a heating wire assembly for a heating roller device. In 2006, he invented electrothermal fabric and heating pad with phase change material. From 2008-2015 he made several other major breakthroughs in the wearable heated industry. During the same time-period, our partner Henry Deutsch had been working in the heated apparel and outdoor industry. On a trip to Asia in 2015, Henry by chance met Steven. Both seeing the gap and opportunity in the market, reached out to Bryce Fisher, a former relation, to help with the marketing and online development of Ravean. Ravean was formed on August 4, 2015 and launched its first Kickstarter product October 1, 2015.
Ravean is offering securities under Regulation CF and Rule 506(c) of Regulation D through SI Securities, LLC ("SI Securities"). The Company has filed a Form C with the Securities and Exchange Commission in connection with its offering, a copy of which may be obtained at: https://www.seedinvest.com/ravean/seed