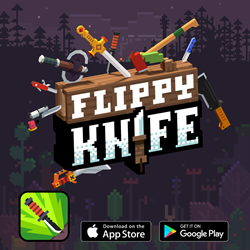 "Best of" version of all the different types of flipping games.
(PRWEB) August 08, 2017
Flippy Knife, a new game by Beresnev Games about flipping knives in beautiful nature, was published on the 3rd of August in the App Store and Google Play.
Flippy Knife game on App Store - http://apple.co/2hr8diK
Flippy Knife game on Google Play - http://bit.ly/2vmsP1j
Flippy Knife collected over 250,000 installs in no time - in just three days after release - and became the most popular free to play game of USA in the App Store.
Nature, forest, a relaxing atmosphere and a favourite knife in the pocket… Why not make a game about it!
According to TouchArcade, Flippy Knife is almost like a "Best of" version of all the different types of flipping games.
One might ask, what makes Flippy Knife so special?
Well, what's special is that you actually flip with something sharp and pointy (as TouchArcade has put it)!
Over 35 world famous blades (knives, sabers, swords, axes) are waiting for you gleaming in the light. Physics-based realistic knife simulator makes the experience live and bright.
The goal is to choose one of the knives and flip it as deftly and accurately as you can using your skills and precision to the maximum. 
While improving your skills you will add new knives to your collection.
Flippy Knife game was made with the intention to satisfy blades lovers, but as survey shows this game is entertaining and challenging for vast range of people. There are many knives from all over the world in the game including well known brands of talented knife makers.
Everybody finds something exciting in it. As Gamezebo wrote, Flippy Knife wants you to celebrate knives without bloodshed. And it is true! Flippy Knife is a peaceful game!
Social media:
Youtube: https://www.youtube.com/channel/UCkT3T9lA1BPBPUMw5qZI_4A
Facebook - https://www.facebook.com/BeresnevGames/
Instagram - https://www.instagram.com/flippyknife/
Twitter - https://twitter.com/FlippyKnife
Contact: oleg (at) beresnev (dot) games