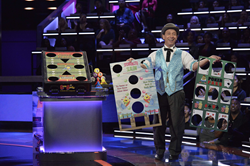 I was completely overwhelmed. For three years, I have dedicated my life to making BeanBagglz the highest quality family game on the market and that moment was my validation
Canyon Lake, Calif. (PRWEB) August 08, 2017
Renowned magician Anton Riniti dropped to his knees and began to cry the moment he was announced the winner of $50,000 on the ABC television show Steve Harvey's FUNDERDOME.
"I was completely overwhelmed. For three years, I have dedicated my life to making BeanBagglz the highest quality family game on the market and that moment was my validation," Chef Anton said. "In that moment, I was above all else grateful. BeanBagglz was given life and the BeanBagglz Movement was born."
BeanBagglz is so much more than "the ultimate 33-in-1 tossing game." While it has been named Hottest New Summer Game by TrendSetter Magazine, there is a greater good called The BeanBagglz Movement.
"Are you tired of seeing the tops of your kids' heads while they look at their devices and games?" asks Chef Anton. "My mission is to bring back the importance of social interaction and family time like we had when we were growing up. Do you remember the joy of hearing your kids laughing as you interacted as a family? Do you remember that look in their eyes when they learned something new or experienced a brand new feeling? Sadly, for many of us those days are gone, but they don't have to be anymore."
Join the BeanBagglz Movement. A movement to get kids off the couch, off their mobile devices, and learning the importance of interacting socially with their friends and family. "Tell everyone about our Grass Roots Campaign and let's bring the magic of BeanBagglz to families everywhere."
Visit http://www.BeanBagglz.com to support the BeanBagglz Movement.
About Funderdome - Steve Harvey's Funderdome is a seed-funding competition reality series where two budding entrepreneurs go head-to-head to win over a live studio audience to fund their ideas, products or companies. After the entrepreneurs pitch their products, the audience votes to determine the winner.
About Chef Anton – Anton Riniti, professionally known as Chef Anton is a renaissance man. Professionally he is a motivational speaker with his critically acclaimed "It-Ain't-Magic Seminar" where he teaches his 11 It-Ain't-Magic Tricks to Goal Setting and Achievement. And he should know, his list of accomplishments include:

2-Time United States Trick Shot Champion of Pool
Award-Winning Close-Up and Stage Magician from Hollywood's Magic Castle.
Trained Chef from the Culinary Institute of America in Hyde Park, NY
2013 City of Canyon Lake Golf Champion
2012 World Record Holder for World's Tallest Trick Shot
2008 National Hydrofoiling Champion
Author of numerous books including: Family Style Cookbook and number one selling Pool Hustler's Handbook.
Creator of countless DVDs such as: I Am - A 21 Day Transformation System a self-study course for his goal setting and achievement seminar.
About BeanBagglz
"BeanBagglz is the world's first bean bag game with interchangeable templates, built in storage bin, wheels and convertible table. BeanBagglz has over 300 game variations. The templates enable players to play games like football, billiards, golf, poker and educational games. Anyone from three years old and up can enjoy this game.
"Compact and portable, BeanBagglz is ideal for tailgate parties, kids parties, camping, beaches, competitions and get-togethers with family and friends. It is ready for immediate shipment at http://www.BeanBagglz.com Let's get your BeanBagglz on!" said Anton.
Chef Anton will be appearing August 23-27 at the Magic Castle in Hollywood performing his award-winning Trick Shot Magic Show. He is available for interviews at 909.559.735 or ChefAnton(at)ChefAnton.com