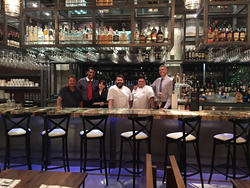 "I wanted to step out of the more traditional scene of cooking and step into a no-boundary culinary experience," LoGrasso says.
Delray Beach, FL (PRWEB) August 08, 2017
The modern, inventive and authentic MIA Kitchen & Bar opened its doors to the public on Monday, July 31. Media Dines for the restaurant plan to start after August 13 and a grand opening celebration is also planned for Thursday, August 31. The grand opening party will feature all Florida foods and ingredients. Until then, the restaurant is open to the public at full operating hours: Sunday to Thursday, 4 p.m. to 10 pm., Friday and Saturday, 4 p.m. to 11 p.m. with Happy Hour everyday from 4 to 6 p.m.
The goal of MIA is to bring local to the table, showcasing Florida farming and agriculture as well as local breweries and distilleries. "We want to educate the public on what Florida does," Malatesta says. "There's a lot more to the state than Disney, South Beach and Key West."
Not only will MIA be serving food and drink, but it will also serve as a cultural hub serving and showcasing local artists of film, music and visual art.
Malatesta took on the project with Proprietor/CEO Joey LoGrasso, who has created several lasting establishments in the Delray area.
"I wanted to step out of the more traditional scene of cooking and step into a no-boundary culinary experience," LoGrasso says. "My goal is to bring a great culinary and hospitality experience to my guests. I want to give people what they want and have fun doing it."
"This restaurant and cultural hub will be something extremely unique as there's nothing like it around," Malatesta says. "We, Joey and I as a team, want to open a place that doesn't just serve food. It'll be a place you can come, not just to eat and drink, but more than that. You'll walk in and have a different feeling. You'll feel respected. It'll be a place people can connect with. It's not a chain restaurant, it's something more intimate where the chef will know you, know what you like and make something for you. It'll be a place to experience new things and interact."
Full, professional, interior shots will be available in the coming weeks. A menu and food photos are also available upon request. Further photos are also available for viewing on the website: http://www.mia.kitchen.
---
MIA Kitchen & Bar is local food with global flare. Opened on July 31, 2017, run by husband and wife team, Chef Blake Malatesta (former chef of 50 Ocean) and Ana Malatesta, the fresh restaurant brings modern Florida cuisine to the table in a chic, industrial and yet comfortable atmosphere. MIA will deliver both exceptional service, outstanding food and amazing cocktails to customers, providing a destination for tourists and meeting place for locals. Chef Malatesta has won numerous awards and is known for elevating his menus to new heights all while using locally grown food. To learn more, visit http://www.mia.kitchen.