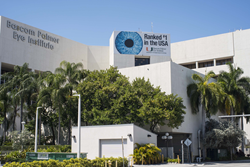 "Developing one mobile platform for the entire University of Miami Health System allows patients the convenience of location-based services that complement their comprehensive care needs." -Joshua Titus, CEO Gozio Health
Miami, Florida (PRWEB) August 08, 2017
With the success of the newly opened Lennar Foundation Medical Center's mobile wayfinding application, the University of Miami Health System will expand the platform to include system-wide navigation for all its hospitals, specialty centers and clinics. Gozio Health will develop the smartphone-based application with state-of-the-art indoor navigation and user features that engage patients in their care including physician directories, appointment scheduling, parking reminders and access to MyChart medical records.
"UHealth's commitment to providing the best innovations in patient care extends to improving the patient experience before they even walk through the door," says Dr. David Seo, CIO and Chief Medical Informatics Officer. "With mobile wayfinding, patients can rest assured they have a navigational tool for their health care journey at their fingertips."
Gozio Health will be providing indoor navigation for University of Miami Hospital (UMH), Sylvester Comprehensive Cancer Center/University of Miami Hospital and Clinics (UMHC), Bascom Palmer Eye Institute, as well as the UMH and Soffer Clinical Research Center parking decks. Navigation from patients' homes to in more than 30 other satellite locations will also be available through the Gozio Health application
"More and more patients expect healthcare systems to offer convenient, personalized experiences, and mobile wayfinding is a service that improves the overall patient experience," says Joshua Titus, CEO and Founder Gozio Health. "Developing one mobile platform for the entire University of Miami Health System allows patients the convenience of navigating from their home to point of care and location-based services that complement their comprehensive care needs."
Gozio Health hospital partners see a significant uptick of patients accessing medical records with a hospital-branded mobile app. One-third of patients that download apps using the Gozio technology use it to access urgent care wait times and the "save my spot" feature, and 67 percent of Gozio app users view hospital amenity details during their visit.
About Gozio
Gozio Health transforms indoor navigation and significantly improves patient experience with a smartphone-based, indoor positioning and wayfinding platform specifically designed for hospitals and healthcare systems. The wayfinding solution from Gozio has earned the exclusive endorsement of the American Hospital Association. Gozio's pioneering mobile platform dramatically improves mobile adoption rates for hospitals and seamlessly integrates mobile technology into patient engagement strategies. For more information, visit http://www.goziohealth.com, or find Gozio Health on Twitter and LinkedIn.
Gozio contact: Barb Kragor, barb(at)goziohealth.com, 404-271-8704
Gozio media contact: Carolyn VanWinkle, carolyn.vanwinkle(at)gmail.com, 503-381-1095