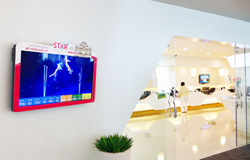 Nu Skin, Thailand adapted Energy-saving Solutions for Corporate and Customer Communication by opting for CAYIN's digital signage solution.
Taipei, Taiwan (PRWEB) August 07, 2017
Nu Skin is one of the biggest multilevel marketing companies in the world. Its headquarters in Bangkok deals with heavy traffic, and in order to provide better customer experience, Nu Skin sought for solutions to upgrade its communication tools and queuing system.
Replacing the previous and unsatisfying solution was a challenge since the third party queuing system needed to be flawlessly integrated. Nu Skin came across CAYIN's simple solution through DMaSSTech, who was able to extract and transfer the queuing data to CAYIN's digital signage players using HTML, with customized designs that blend in with the rest of the content, including videos, images and announcements.
By implementing digital signage in the waiting area and at the entrances of the customer center, customers are entertained while waiting to be attended to. The progress of the wait is easily monitored without customers constantly having to leave their seats to see where the line is, and the waiting time perception decreases significantly.
For more information on the case, please visit CAYIN's Website: Nu Skin Headquarters, Thailand