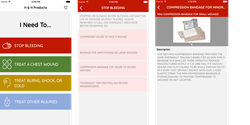 Williamsburg, Virginia (PRWEB) August 09, 2017
H&H Medical Corporation, a leading manufacturer and supplier of emergency first aid products, announced today the availability of a mobile application for users to learn about H&H Medical products, how they treat severe injuries and medical emergencies, and step-by-step instructions on how to use them.
The app was designed to help users quickly identify the products they might need to treat a particular medical emergency. While not designed as a training tool, the app does provide information about products for treating severe bleeding, sealing chest wounds, addressing a tension pneumothorax, opening airways, and other immediate trauma emergencies.
The app also provides step-by-step instructions on how to use each product in the catalog along with links to order products from H&H Medical's website. The app is available from the IOS App Store and the Google Play Store. More information can be found at http://mobileapp.gohandh.com.
"H&H Medical has worked hard to create products for point-of-injury trauma care that are easy to use" said Paul Harder, president of H&H Medical. "Through this app, users will be able to quickly identify what products they need to carry with them to be prepared and how to use them in an emergency"
About H&H Medical Corporation
Since 1982, H&H Medical Corporation has been dedicated to solving complex problems facing military and civilian responders. Recognized as a leading supplier of innovative pre-hospital trauma products, H&H Medical Corporation manufactures and distributes such products as the Bolin Chest Seal™, H-Bandage™ compression dressing, H&H Compressed Gauze, and Emergency Cricothyrotomy Kit. For more information, visit us at http://www.gohandh.com.