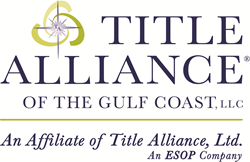 After meeting with the leadership team at Title Alliance and learning about their long history of success in the title and joint venture spaces we were excited to team up with an organization that match our own culture of service and giving back
Media, PA (PRWEB) August 07, 2017
Title Alliance, a RESPA-compliant ESOP company that specializes in joint ventured title insurance agencies, is proud to announce their newest partnership with Keller Williams On the Water and Keller Williams On the Water Sarasota. This partnership will mark the company's 5th Florida Operation, the second on the West Coast of Florida and will service both Manatee and Sarasota Counties.
The Bradenton Market Center, which opened in 2006, currently has 115 agents. Since opening in 2014, the Sarasota Market Center has 153 agents. Unique to Keller Williams, the Market Centers have profit shared $70,000 and $110,000 respectively year to date. Both Market Centers are in the Top 10 in market share for their respective counties. Both offices are among the fastest growing brokerages in our board in agent count, units and volume.
"The leadership team and agents have been looking to build a partnership with a Title Company with whom, together, we can deliver an unmatched level of service to the clients we help sell and buy a home in the Sarasota/Manatee areas every day," says Ciaran Farrell, CFO. He continues, "After meeting with the leadership team at Title Alliance and learning about their long history of success in the title and joint venture spaces we were excited to team up with an organization that match our own culture of service and giving back to the employees, agents and clients that drive our own success every day."
"It's been exciting to watch the office come alive," says Victoria Coyne, Regional Director for Title Alliance. "I've had interaction with our partners and the agents in the Market Center throughout the start up process and am looking forward to watching the office continue to grow as part of our Title Alliance family. I've been impressed with the leadership from Keller Williams and their commitment to excellence throughout the entire process."
For additional information on Keller Williams On the Water or Keller Williams On the Water Sarasota, visit their websites at: http://www.kwotw.com or http://www.kwsarasotametro.com.
Title Alliance of the Gulf Coast's office is located at:
1301 6th Ave West, Suite 104 | Bradenton FL, 34205
About Title Alliance:
Title Alliance, Ltd, an ESOP Company is located in Media, PA and has been creating RESPA compliant title joint ventures since 1983 with lenders, mortgage bankers, realtors, builders and credit unions. Its roots date back to 1948 with its first agency which is still in existence today. For more information or to find out how a Title Alliance's partnership or title management skills could benefit you, visit them online or contact Lindsay Smith at 800-220-3901 x 165.