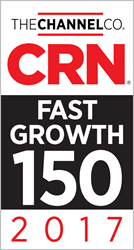 "This honor is particularly meaningful for us because our accelerated growth is directly attributable to the dedication of our solutions teams and the confidence that our clients place in us."
ATLANTA, Georgia (PRWEB) August 07, 2017
ProviDyn®, a provider of IT support, strategy and services for small and medium-sized businesses and nonprofits, today announced that CRN®, a brand of The Channel Company, has named ProviDyn to its 2017 Fast Growth 150 list. The list is CRN's annual ranking of North America-based technology integrators, solution providers and IT consultants with gross sales of at least $1 million that have experienced significant economic growth over the past two years. The 2017 list is based on gains in gross revenue between 2014 and 2016, and the companies recognized represent a total, combined revenue of more than $16,717,688,643.
"This honor is particularly meaningful for us because our accelerated growth is directly attributable to the dedication of our solutions teams and the confidence that our clients place in us," said ProviDyn CEO Hamish Davidson. "We look forward to many more years helping companies and their personnel achieve greater success through the performance, efficiency and productivity that IT excellence provides."
"The companies on CRN's 2017 Fast Growth 150 list are thriving in what is now a very tumultuous, demanding IT channel climate," said Robert Faletra, CEO of The Channel Company. "This remarkable group of solution providers has successfully adapted to a landmark industry shift away from the traditional VAR business model to a more services-driven approach, outpacing competitors and emerging as true channel leaders. We congratulate each of the Fast Growth 150 honorees and look forward to their continued success."
The Fast Growth 150 list is highlighted in the August issue of CRN and can be viewed online at http://www.crn.com/fastgrowth150.
About ProviDyn
ProviDyn provides technology expertise, services and support to help small and mid-sized organizations sustain growth and strengthen performance. Backed by technology experts, ProviDyn helps organizations gain the full benefits of existing technology, make strategic investments in implementing new technology and maintain an infrastructure that is secure, reliable and flexible. ProviDyn offers managed services, mobile computing, IT strategy, virtualization, cloud computing, business continuity, network security and IP telephony. To learn more about how ProviDyn is driving business through technology and helping companies reduce costs, improve efficiency and maximize productivity, visit http://www.providyn.com.
About the Channel Company
The Channel Company enables breakthrough IT channel performance with our dominant media, engaging events, expert consulting and education, and innovative marketing services and platforms. As the channel catalyst, we connect and empower technology suppliers, solution providers and end users. Backed by more than 30 years of unequaled channel experience, we draw from our deep knowledge to envision innovative new solutions for ever-evolving challenges in the technology marketplace. http://www.thechannelco.com